New Residential Solar Service Entrant Partners with Nation's Top Solar Installer
Sun Run and REC Solar Offer California Homeowners Pay-As-You-Go Solar

New Residential Solar Service Entrant Partners with Nation's Top Solar Installer
Long Beach, Calif. - Solar Power 2007 - (September 25, 2007) - Sun Run Generation today announced a partnership with REC Solar, provider of residential and commercial solar electric systems, to offer homeowners in California a new affordable way to buy solar power. With a nod to the success of the power purchase agreement (PPA) model in commercial solar, Sun Run offers homeowners the option of purchasing solar energy the same way businesses have for years, by purchasing power instead of panels.
Unlike traditional avenues of financing home solar systems, which rely on obtaining home equity loans or additional lines of credit, the Sun Run Electricity' plan requires no upfront credit or additional loans. Instead, homeowners lock-in their low electricity rate with a one-time installation fee and simply pay for their new Sun Run solar service as they would with any other monthly service. Working in tandem with Sun Run, REC Solar will supply the reliable residential solar energy systems from which Sun Run will sell discounted electricity to the homeowner. Sun Run customers are guaranteed performance and save more than 50 percent off the upfront cost and 15 percent over the 20-year life of the solar electric system.
"As the overall greening of America hits its stride, the value of solar energy has become all too apparent. The upfront cost of purchasing a system outright can be a barrier for some households" said REC Solar Director of Sales and Marketing, Matthew Woods. "By eliminating the bulk of the up-front cost and guaranteeing each system's performance, Sun Run's innovative financial solution in combination with REC Solar's efficient system installation processes allows a broader range of customers to invest in clean renewable solar electricity."
"As utility rates continue to rise, residential energy consumers are becoming increasingly aware of the need for a secure, clean, fixed-cost alternative to utility power. The Sun Run Electricity Package assures customers a continued, clean energy source with the safety of our money-back performance guarantee," explained Sun Run COO, Nat Kreamer. "With partners like REC Solar, the largest solar contractor in the U.S., we're working with highly-qualified installers to maximize the value of every solar power system."
About REC Solar, Inc.
REC Solar, Inc. specializes in grid-tied solar electric design and installation, offering affordable solar solutions for all residential and commercial customers. As of today, REC Solar has successfully installed clean solar energy in over 2,000 American homes and buildings. REC Solar is among the nation's largest solar integrators and currently has 12 offices in 4 states (CA, CO, HI, and NJ). For additional information on REC Solar. visit www.recsolar.com or call 1-888-OK-SOLAR (888-657-6527).
About Sun Run Generation LLC
Sun Run is the residential solar energy service pioneer. Sun Run is bringing green energy into our homes to create a cleaner and safer world, to lower electricity bills, and to protect against rising energy prices. The Sun Run Electricity' Package is the most economical and hassle-free way for homeowners to go solar, enabling residents to experience the benefits of solar energy without the high upfront investment or the risk of system failure. Sun Run is based in San Francisco, CA. For more information, visit www.sunrunhome.com or call (415) 982-9000.
Media contact:
Whitney Phaneuf, Antenna Group for Sun Run
whitney@antennagroup.com, 415-977-1916
Featured Product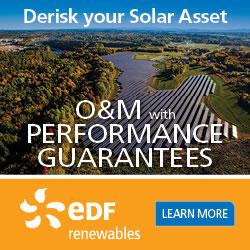 EDF Renewables offers the same innovative solutions that maximize the performance of our own 5.2 GW of installed projects. Because we're not an equipment manufacturer, our recommendations are transparent and data-driven. We cover the entire project lifecycle: from pre-commissioning support, through warranty and post warranty operation, to late stage and decommissioning.