Sales Contract with Evergreen Solar Helps Drive Company Growth
WHITE RIVER JCT., Vermont - North American solar energy leader groSolar announced today the signing of a $175 million, long-term sales contract for solar electric panels with leading manufacturer Evergreen Solar, Inc.

The contract will assure fast-growing groSolar a steady supply of solar panels for the exploding commercial and residential solar market.
The contract with Evergreen (Nasdaq: ESLR) continues a relationship that saw the two companies sign a previous contract for $88 million in 2006.
Evergreen Solar is a manufacturer of solar power panels with its proprietary, low-cost String Ribbon(tm) wafer technology. The solar panels will be manufactured at the company's Devens, MA. facility, which will begin panel production in July. The contract will continue through 2012.
Jeff Wolfe, CEO of groSolar, said: "groSolar is excited about extending our partnership with Evergreen. Our first long term contract provided a strong impetus for groSolar's tremendous growth. At the same time, Evergreen Solar has grown into the company that we knew it would, creating the highest quality product. Their increased US-based manufacturing, lowest carbon footprint product, and leading innovation will assist groSolar in continuing to lead the solar industry."
"groSolar's confidence in Evergreen's abilities and the quality of our product is a testament to the work we have done with them over the past two years," said Dr. Terry Bailey, Senior Vice President, Marketing and Sales. "The two companies have grown and emerged as true leaders in the solar industry. We are proud to have groSolar as a partner and look forward to continuing to grow our business together."
About groSolar
groSolar is a leading North American solar power company focused on designing, distributing and installing high quality solar electric and solar hot water systems. groSolar provides residential installation in the northeast and mid-Atlantic states, and commercial installation in California as well as the eastern US, serving other areas through an extensive dealer network. With a system of warehouses across the continent, groSolar has the broadest distribution capabilities of any solar provider. groSolar integrates components from leading solar manufacturers including Evergreen Solar into efficient solar energy systems for its customers that generate clean, reliable energy for decades. groSolar was also recently recognized as the second fastest growing company in Vermont and one of the best places to work in Vermont. For information, contact Kelli Pippin at 800.374.4494 x3085 or visit groSolar.com.
About Evergreen Solar, Inc.
Evergreen Solar, Inc. develops, manufactures and markets solar power products using proprietary, low-cost manufacturing technologies. The Company's patented wafer technology, known as String Ribbon, uses significantly less polysilicon than conventional processes. Evergreen's products provide reliable and environmentally clean electric power for residential and commercial applications globally. For more information about the Company, please visit www.evergreensolar.com.
Evergreen Solar(r) is a registered trademark and String Ribbon(tm) is a trademark of Evergreen Solar, Inc.
# # #
Featured Product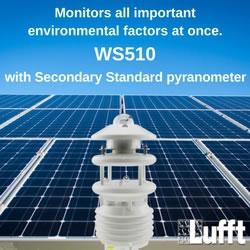 First and only Smart Weather Sensor with integrated Kipp & Zonen CMP10 Pyranometer (secondary standard). From the WS product family of professional intelligent measurement transducers with digital interface for environmental applications. Integrated design with ventilated radiation protection for measuring: Air temperature, relative humidity, air pressure, wind direction, wind speed and radiation. One external temperature or rain sensor is connectable.