EnerWorks has secured $5.1 million in new investment through a private placement which closed January 15, 2009.
EnerWorks has secured $5.1 million in new investment through a private placement which closed January 15, 2009.

"This influx of capital will provide us with the resources we need to continue our rapid pace of growth," says Jim Fletcher, Chair of the EnerWorks Board of Directors and Managing Director with Chrysalix Energy Management, a leading cleantech VC. Investors in this financing include Chrysalix, the other current VC investors (Investeco, VentureLink and Covington), and several new investors.
"This increased capital base will help us respond to the significant number of new projects and opportunities which are coming our way as a result of growing interest in renewable energy, favourable incentives, our recent ENERGY STAR® qualification, and the ecoENERGY program rating of our commercial collectors as the most efficient flat plate collector on the market," adds Dr. Phil Whiting, EnerWorks President and CEO. "We'll be devoting additional resources to R&D and to enhanced manufacturing capabilities, with a real focus on the phenomenal growth we're seeing in the U.S."
About EnerWorks
EnerWorks Inc. is a leading North American solar thermal technology provider. With proven, patented technology and certified systems, EnerWorks offers high quality, reliable and cost effective renewable energy solutions to the North American market.
EnerWorks develops and manufactures proprietary renewable energy appliances for residential, commercial and industrial markets. In the residential market, EnerWorks's solar water heating appliances are fully certified, ENERGY STAR® qualified, and the only system meeting CSA international standards. They complement existing water-heating systems and provide users with clean energy and a real reduction in energy costs. In the commercial and industrial markets, EnerWorks is at the forefront of integrated solar thermal solutions, working with local partners to design, install, commission and maintain solar thermal heating and cooling systems.
Contact Information:
Kathleen Barnard, Marketing Manager
EnerWorks Inc.
P: 519-268-6500
www.enerworks.com
Featured Product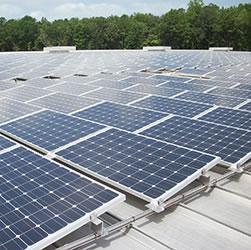 The Power Rail™ Commercial Mounting System is designed with the professional PV solar installer in mind. Both the XD/UD and LD/MD rails feature single tool assembly with the revolutionary patented RAD™ Lock-in-Place bolt for fast and secure module clamping. The high strength marine-grade aluminum rails include an integral wiring channel for securing cables and providing a professional finish.