Final score: Fuel cell 1, Carbon-based emissions 0 --- Sustainable technology to power Carolina Baseball Stadium scoreboard
It will be up to the Gamecock baseball team to rack up the numbers that will appear on the scoreboard at the new Carolina Baseball Stadium, but cutting-edge technology - driven by the University of South Carolina's commitment to developing alternative-energy sources - will make the scoreboard work.

Working through a grant from the South Carolina Research Authority, faculty members from the university's College of Engineering and Computing have devised a method by which the scoreboard will be partly powered by a hydrogen fuel cell. A cornerstone of the university's long-term research focus, fuel-cell technology offers tremendous potential for providing low-cost, low-emission power for a wide range of applications, from toys to automobiles. The university's Green Quad residence hall currently uses a fuel cell in its water-heating operation.
"This is more than just a baseball stadium," said University President Dr. Harris Pastides. "It is a workshop of innovation in future-fuels research. We are especially proud that some of our best and brightest researchers in alternative fuels were directly involved in making this happen, and we hope to incorporate more new energy technologies in the future."
Dr. Roger Dougal, professor of electrical engineering and the principal investigator on the project, said the technology has not yet reached the cost-saving stage yet. Powering the scoreboard, therefore, will be an educational exercise and a means of demonstrating the practical applications of fuel cells.
And it gives the university a measure of distinction: World's first fuel-cell-powered scoreboard.
"Just like the first steam-powered locomotives required a lot of up-front commitment, so does this," he said. "Eventually, the economical advantages will trickle down."
The environmental advantages of fuel cells, however, are immediate. Tanks of compressed gas will be used to supply hydrogen to the fuel cell, which generates power through a reaction of hydrogen with oxygen from the air. Thus, unlike other power sources, which produce toxic exhausts and other pollutants, the fuel cell emits only water.
A replica of the actual working fuel cell, along with educational material, will be on public display at the stadium to allow fans to learn more about how fuel cells work in general and how the one at the stadium in particular will power the scoreboard.
Underscoring the environmentally friendly nature of the project is the fact that the fuel cell is actually recycled, having served as backup power to a cell-phone tower in its previous life.
The project ultimately will serve as a seedbed for future applications, Dougal said, adding that, in the four months since the effort got under way, he has had multiple conversations with groups interested in joining the fuel-cell revolution. Preliminary plans call for a fuel-cell-powered bus to be on site when the National Hydrogen Association Conference and Hydrogen Expo is held in Columbia next month. And later on, one of the familiar Columbia trolley buses will likely have some level of hydrogen power.
"Nobody knows exactly where this will lead," he said, "but names will pop up, questions will be asked and solutions will be found."
"We are particularly excited to showcase the application of a form of alternative energy that we are actively researching and developing," said Helen Zeigler, university vice president for business and facilities and project manager for the baseball stadium construction. "That it is a new, high-profile facility that will serve the public well beyond the university campus makes this an especially great opportunity to emphasize our commitment to sustainable construction practices."
Featured Product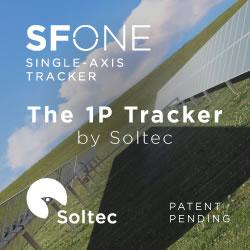 Soltec manufactures and supplies solar trackers designed and proven for extreme climate conditions, which is an ideal solution for any region's environment. Soltec's trackers are self-powered, requiring no additional PV module or grid-powered connection. Bifacial modules collect energy on both the front and rear sides, capturing reflected irradiance from the ground surface under and around the tracker and from other modules. Depending on site conditions, bifacial yield-gain can reach +30 percent.