Conservation Services Group, a national energy services firm based near Boston, is seeing record job and revenue growth, culminating with the 25th anniversary of the company.
JOB GROWTH, GEOGRAPHIC EXPANSION

KICK OFF CSG'S SILVER ANNIVERSARY
WESTBOROUGH, Mass., March 11, 2009 - Conservation Services Group (CSG) today announced an average annual job growth of 27 percent, expansion to 22 states and the procurement of $100 million in new contracts to launch its 25th anniversary year. The Mass.-based company is bucking the current economic trend, due to a burgeoning demand for energy efficiency programs nationwide, according to CEO Stephen L. Cowell.
CSG started out in 1984 with one office in Boston. Today, the energy services firm has 14 locations and 400 employees nationwide. CSG's revenues have increased 77 percent, from $35 million to $62 million since 2005. Over the same four-year period, jobs grew 111 percent, from 180 to 381 employees nationwide. Revenues are expected to top $80 million in 2009. Comprising the design and delivery of energy efficiency programs, new contracts range from a residential home energy improvement program in the Carolinas, to energy efficient heating, ventilation and air conditioning (HVAC) programs in Southern California.
Massachusetts Secretary of Energy and Environmental Affairs, Ian Bowles, said, "For a quarter of a century, CSG has helped individuals and businesses save money on energy and reduce greenhouse gas emissions. This Massachusetts-based company did it before climate change became a global environmental imperative and before energy efficiency became a top national and state priority. Governor Patrick and I are proud of CSG's example of how the Commonwealth's leadership in energy efficiency can bring jobs and economic development to the state."
CSG's new contracts comprise several multi-year contracts, in addition to programs for the year 2009. These include:
· Residential Energy Solutions -- Ameren Illinois Utilities
· Residential Energy Conservation Efficiency Services -- Cascade Natural Gas Corporation (Washington)
· Efficiency marketing services -- Columbia Gas of Ohio
· Residential Home Energy Improvement Program -- Progress Energy Carolinas
· HVAC Quality Install Program -- Southern California Edison
· Residential Energy Efficiency Services -- Tennessee Valley Authority
· ENERGY STAR̉ New Homes - Unisource Gas, Unisource Electric.
CSG's call centers, located in Fall River, Mass., Portland, Ore. and Victorville, Calif., support these and dozens of other programs nationwide. In the past year, requests for services have grown by 105 percent. The company's main call center, in Fall River, is scheduled for expansion later this year. The Victorville office is moving to a larger space in the spring to accommodate additional staffers. CSG will be opening a new call center in Nashville, Tenn., to support programs in the ever expanding Southeast region.
Cowell said, "Energy efficiency is sweeping the country. CSG is now working in states that have not espoused conservation in the past. It has come a long way since the
seventies, when we shivered in the dark. Today's technologies make homes and buildings more comfortable, while reducing energy consumption. Our growth is testimony to the increasing awareness, importance and cost-effectiveness of energy efficiency. It is a very exciting time to be working in this industry."
Conservation Services Group was founded in 1984 and is based in Westborough, Mass. The company provides energy saving strategies, program design, management services and renewable energy technologies to consumers and businesses nationwide. For more information visit, www.csgrp.com.
Featured Product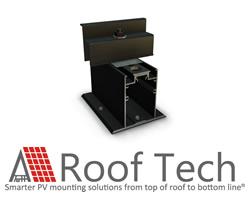 The most compact versatile rail-less PV mounting system under the sun. Instead of placing solar panels on top of long rails, simply attach E Mount AIR to rafters or the roof decking. Once panels are fastened to the roof, the system array is electrically bonded. The result is a visually seamless PV installation that stands the test of time. - Truly "One With The Roof". - PE stamped cert. letters available, UL 2703 Classified, ASTM 2140 fully waterproof. The one and only with integrated flexible flashing certified by the ICC! All the best quality. Only from Roof Tech