BioTech solution uses enzyme for more oil
(Cincinnati, OH - June 11, 2009) Agragen, a leader in using biotechnology to modify Camelina sativa to increase agronomically desirable traits, announces the acquisition of intellectual property rights that will increase oil content in the second generation oilseed crop.

Through an agreement with the University of Alberta and Agriculture and Agri-Food Canada (AAFC), signed May, 2, Agragen will use its patented and patent-pending technology to introduce into camelina a gene encoding a key enzyme in oil synthesis. One important aspect of Agragen's transformation system is that it does not utilize any additional genes that produce antibiotic resistance, giving it a clearer regulatory path for using the meal from its GMO camelina in livestock.
"This is a great example of collaboration amongst industry and research institutions to develop enhanced Camelina sativa for the biofuel industry," says Dr. David Cox, CEO of TEC Edmonton, the technology commercialization agent for the University of Alberta. "Everyone benefits when we can successfully work together to address key industry and environmental needs and move technology into the field."
Further testing will be needed to demonstrate that the introduction of the gene encoding this enzyme will result in elevation of oil production in camelina. However, researchers with the University of Alberta and AAFC have already demonstrated in other systems that the introduction of this enzyme results in significant elevation of oil content. In fact, it is expected that the enhancement could increase oil content by as much as five percent.
"The acquisition of intellectual property rights for exclusive use in Camelina sativa is an exciting step in the optimization of camelina for commercial use," said Dr. Eric J. Murphy, Chief Scientific Officer for Agragen. "The intellectual property is based on a specific enzyme that is a key candidate for enhanced oil production in camelina."
Once ready for commercialization, Agragen plans to transfer the resulting intellectual property to Great Plains Oil & Exploration, the world's largest producer of oil made from Camelina.
"We are truly excited to see our work at the bench to be used in a commercial process to carryout out our proof of concept into actual commercial use," said Dr. Randall Weselake, Professor and Canada Research Chair in Agricultural Lipid Biotechnology and the lead scientist in this project for the University of Alberta. "This is truly an exciting step for our program, and we look forward to working with Agragen to fully develop the potential of this system."
"By coupling our strengths in transforming Camelina sativa with Dr. Weselake's vast experience in oil deposition in plants, we are forming a team that will successfully use this approach to enhance seed oil production from the bench to the field," said Murphy of the partnership. "Our proprietary set of seed promoters and our other discovery efforts add additional strength in this area."
About Agragen
Agragen, LLC is based in Cincinnati, Ohio, with offices in Helsinki, Finland, and Grand Forks, North Dakota. With its exclusive access to the vast majority of the world's germplasm, Agragen uses its expertise in camelina biotechnology and its breeding program to alter the agronomic properties of the crop. Camelina is a low input alternative plant for oil used in downstream biofuel production, while also producing a high quality meal comparable to soybean meal.
About TEC Edmonton
TEC Edmonton helps transform high-tech discoveries into commercialization opportunities. Located in Edmonton, Alberta, Canada, TEC Edmonton is a unique non-for-profit joint venture between Edmonton Economic Development Corporation (EEDC) and the University of Alberta.
Featured Product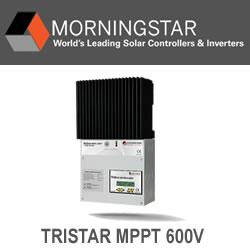 Morningstar's TriStar MPPT 600V charge controller leverages Morningstar's innovative TrakStar™ MPPT technology and our 20+ years of power electronics engineering excellence, to enable the widest input operating voltage range available from a solar array, wind turbine or hydro input. This controller's standard and DB versions are for off-grid applications, and the TR versions were developed to enable retrofitting grid-tied systems with battery backup.