A new £20 million base-load eco-friendly electricity generating plant in Barrow-in-Furness has been given planning to go ahead by Cumbria County Council to build a wood burning combined heat and power plant on land at Ramsden Dock, part of Barrow's Waterfront regeneration development
Barrow to go Green with new eco-friendly Energy Plant on The Waterfront

A new £20 million base-load "eco-friendly" electricity generating plant in Barrow-in-Furness has been given the planning go ahead by Cumbria County Council. Sunrise Renewables Ltd plan to build a wood burning combined heat and power biomass plant on land at Ramsden Dock, part of Barrow's Waterfront on the south side of the port's land in Barrow, North West Coast of England.
Furness Enterprise's, Stuart Klosinski, Industrial Development Manger comments: "This adds to the potential of the Waterfront investment in Furness by reinforcing the importance of Barrow-in-Furness as The Gateway to Britain's Energy Coast. The approval granted by Cumbria County Council will allow Sunrise Renewables to bring the plant to fruition so that it creates sustainable power jobs and supply chain opportunities for local firms".
Barrow's strategic positioning offers the potential of importing the wood chippings needed to power the plant by either sea, rail or road.
Energy investment into the Furness area has increased considerably in recent years. Barrow currently has intermittent power sources such as wind turbines off its coast with another three wind farms scheduled in the near future. Three offshore gas storage schemes are also planned and up to four nuclear power stations are being considered in west Cumbria and north Lancashire. The Waterfront will have a major role in supporting these projects where contractors will use land owned by APB Ports and may use new buildings to be erected at the new business park.
Stuart adds: "Now is the time for businesses wishing to exploit the potential of energy investments in or on the coast of the East Irish sea.
"We have a highly skilled workforce in the Furness area that will be able to assist in the construction and running of the new energy plant".
It is anticipated Sunrise's scheme will create approximately 50 construction and 25 permanent jobs.
Note to Editors
Furness Enterprise who assisted the company's expansion programme is South West Cumbria's No 1 development agency.
For further information contact:
Stuart Klosinski, Industrial Development Manager, Furness Enterprise
t: (+44) 1229 820611
e: sklosinski@furnessenterprise.co.uk
or visit: www.furnessenterprise.co.uk
Media contact
Kim Smith
SLPR
t: (+44) 1229 433689
m: (+44) 7960 473691
e: kim@slpr-publicity.co.uk
Featured Product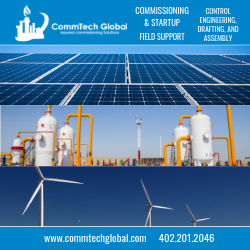 CommTech Global Solutions, LLC, provides professional and reliable commissioning services to customers in all realms of the energy industry. We blend our skills in engineering and technology with innovative business models, offering a complete range of services to assist you for a successful and in compliance operational startup. Consolidation of all our service domains gives our clients a comprehensive set of expertise and far-reaching experience on each project.