• The Spanish company won the award in the category of best photovoltaic application of the year (PV Application Award) in recognition of the high-tech incorporated into their MS Tracker 10 solar tracking systems.
October 6, 2009.- The solar trackers MS Tracker 10, developed and manufactured by the Spanish company MECASOLAR have received the award for best PV solar application of the year during the "Solar Awards 2009"; the international awards granted to solar energy companies.

The awards are convened by the prestigious international publication of British origin, PV Solar, which acknowledges the commitment and investment by MECASOLAR in incorporating new technological developments into their 1 and 2-axis solar trackers, European leaders in implementation in solar photovoltaics.
MECASOLAR received the "PV Application Award 2009" at a ceremony held recently in Hamburg, Germany, during the EUPV trade show. The company-part of the multinational, OPDE Group- felt very satisfied on having won an award that "recognizes our commitment to investment and research into new technological developments with due regard to the demands and needs of the solar photovoltaic market".
MECASOLAR trackers are guaranteed by the company's experience in the markets for solar photovoltaics in Spain, Italy, Portugal and Greece, where it is the leader in sales and production, having reached the 180 MW mark for those markets. MECASOLAR has production sites in Spain, Greece and now in California, United States; a market where it has already closed several contracts. A new factory will also soon be opened in Italy.
Other companies who received awards in the remaining categories of the Solar Awards 2009 included: Solar Solutions, Newport, Dek Solar, Siemens, Oerlikon Solar, J.T. Baker, Advanced Energy, Pasan, Fraunhofer, Spire Solar, ibvgot, First Solar and LDK.
Company Information:
MECASOLAR www.mecasolar.com
MECASOLAR, a company integrated in the OPDE group, specializes in the design, manufacture and distribution of 2-axis solar trackers, 1-axis solar trackers and fixed structures, using state-of-the-art technology. Their 2-axis trackers can increase solar photovoltaic energy by more than 35% in comparison to fixed installations and have a 10 year warranty on parts and labour. Their seasonal azimuth 1-axis trackers maximize production up to 28% compared to the fixed structures and require minimum space -2.51 Ha/1MW -
MECASOLAR reached in 2008 a turnover exceeding €140 million, making it the leader in production, with 180 MW produced and the highest total sales figure in its sector. It has factories in Spain, in Greece and another one in the United States, California. Under its expansion plan, it plans to open another addition in Italy in 2010.
MECASOLAR products are 100% bankable and have been accredited by major companies that perform Due Diligence studies for Project Finance for the major banks. / /
Featured Product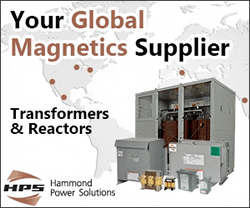 HPS is the largest manufacturer of dry-type transformers in North America. We engineer and manufacture a wide range of standard and custom transformers that are exported globally in electrical equipment and systems. We support solid industries such as oil and gas, mining, steel, waste and water treatment, and wind power generation. HPS leads the industry in these markets through its technical design strength, breadth of product, and manufacturing capabilities, making HPS a stronger company both fundamentally and financially.