- Sustainable Energy Signals Strategy for PARALEXTM System Architecture -
Highlights

-Sustainable Energy teams with Bosch Solar Energy to bring Bosch-PARALEX combination to Canadian market
-Premium product solution for Ontario rooftop solar PV increases investment returns with higher power outputs per rated watt
-Bosch-PARALEX meets Ontario domestic content thresholds for 2010 and 2011
-Targeting 10 - 15 MW Bosch-PARALEX installs for 2010 and 50 - 75 MW for 2011
-An integrated solution installed and maintained by mainstream building trades
Toronto Ontario - March 2, 2010 - Sustainable Energy Technologies Ltd (TSX V:"STG") ("Sustainable Energy" or the "Company") and Bosch Solar Energy AG ("Bosch Solar Energy") announced today that they have agreed to jointly market Bosch thin film PV modules in combination with the Sustainable Energy's SUNERGY inverter for the Ontario market.
Under a memorandum of understanding, Bosch Solar Energy will be the preferred supplier of high efficiency micro-morph thin film PV modules for PARALEXTM systems distributed by Sustainable Energy in the Province of Ontario. PARALEXTM is an integrated solar PV product solution for rooftop and ground based solar PV systems consisting of yield-optimized solar PV panels, inverters, wiring and other DC electrical components.
"We are very excited about this partnership with Sustainable Energy, because it enables Bosch Solar Energy to introduce its expertise in the thin-film technology to the growing Canadian market for the first time. Thanks to new funding structures in many places, the Canadian solar market offers great potential in the next years. With this well-matched combination of Bosch solar modules and photovoltaic components from Sustainable Energy we can offer a competitive system in the future that, above all, allows us to begin to appropriately serve this appealing solar market in Ontario," said Peter Schneidewind, Executive Vice President of Bosch Solar Energy AG.
The Bosch-PARALEX combination is a premium solar PV product which levers the value of Bosch Solar Energy's micro-morph technology and Sustainable Energy's parallel system architecture to increase the number of kilowatt hours for each kilowatt of rated capacity. Unlike other systems which require expensive custom system design, the PARALEX solution is an integrated package which can be installed safely and inexpensively by mainstream building trades reducing total system cost by a substantial discount to current market pricing.
Under the memorandum of understanding, the Bosch Solar Energy and Sustainable Energy are committed to developing a roadmap to build modules and inverters in the Province which will meet 2010 and 2011 domestic content thresholds of the Ontario feed in tariff program. Targeted installations are between 10 and 15 MW for 2010 and between 50 and 75 MW for 2011.
"Bosch Solar Energy is the ideal partner with which to roll out this strategy in Ontario," added Robert H Bucher, President & CEO of Sustainable Energy. "One of the leading electronics companies in the world, the Bosch reputation for quality brings immediately credibility and bankability to the Ontario solar PV market. Its thin film technology is a near perfect fit for the Ontario market delivering more power than conventional crystalline modules in diffuse and indirect lighting and during hot summer months."
About Bosch Solar Energy:
Bosch Solar Energy AG, subsidiary of Robert Bosch GmbH, Stuttgart, Germany, is a leading provider of resource-saving photovoltaic products. Bosch Solar Energy offers its customers high-efficiency, silicon-based crystalline and thin-film products. Currently, Bosch Solar Energy AG and its subsidiaries employ more than 1,400 workers.
For more information please visit www.bosch-solarenergy.com.
About Sustainable Energy: Sustainable Energy www.sustainableenergy.com designs, manufactures and distributes power inverters for grid-connected solar PV systems. Advanced power inverters are a critical enabler of all modern solar PV power systems converting the direct current ("DC") power output of the solar PV modules into the high quality alternating current ("AC") power required by the power grid. Advanced power inverters also optimize the performance of the solar PV modules and maintain the integrity and safety of the interconnection with the power grid.
In rooftop applications, the extra low operating voltage of the SUNERGY platform enables a system architecture that is inherently safe and that can be installed and maintained by most building trades without the need for PV specialists, significantly reducing the installed system cost and increasing investor yields.
In ground based applications, multiple SUNERGY inverters offer higher system yield, less downtime and easier installation and maintenance, than larger "central" inverters. For these reasons, multiple smaller inverters like SUNERGY are increasingly displacing central inverters in European ground based applications - where system performance rather than name plate capacity is the driver.
Sustainable Energy's technologies are the subject of multiple patents issued by and pending with the US Patent and Canadian Patent Offices
Forward Looking Information
The reader is advised that some of the information herein may constitute forward-looking statements within the meaning assigned by National Instruments 51-102 and other relevant securities legislation. In particular, it
includes: statements concerning the impact of our technology on solar PV system performance; statements concerning the potential for sales in the Ontario market which are dependent on a number of factors including the rate at which the market grows and the administration of the Ontario Feed in Tariff Program; statements concerning the ability of the PARALEX architecture to reduce installation costs below market which depends in part on the ability to source other components and managements assumptions on current market costs of installation; and statements that the PARALEX products will be "bankable" which depends inter alia on the likelihood of credit markets accepting warranty and performance risks of the products. While management believes these statements to be accurate they are dependent on a wide range of factors beyond management's control and should not be viewed as a guarantee of the specific outcome.
Forward-looking information is not a guarantee of future performance and involves a number of risks and uncertainties. Many factors could cause the Company's actual results, performance or achievements, or future events or developments, to differ materially from those expressed or implied by the forward-looking information. Readers are cautioned not to place undue reliance on forward-looking information, which speaks only as of the date hereof. The Company does not undertake any obligation to release publicly any revisions to forward- looking information contained herein to reflect events or circumstances that occur after the date hereof or to reflect the occurrence of unanticipated events, except as may be required under applicable securities laws.
Neither the TSX Venture Exchange nor its Regulation Services Provider (as that term is defined in the policies of the TSX Venture Exchange) accepts responsibility for the adequacy or accuracy of this release.
Featured Product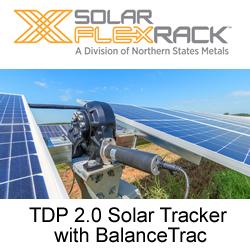 Solar FlexRack's latest solar tracker technology bundles an advanced tracker design with a full team of seasoned engineering and installation experts at your service. The next-generation solar tracker delivers a package of features that both enable increased energy yields for commercial and utility-scale solar installations, and significantly reduce project risks. That translates to smart installation cost-savings across your project budget.