Bloomberg New Energy Finance has released its US sales forecast for plug-in electric vehicles to 2030, prior to the release of the Nissan Leaf and GM Volt.
New York, NY - Plug-in electric vehicles, including plug-in hybrids and battery electric vehicles, have the potential to make up 9% of auto sales in 2020 and 22% in 2030 (1.6 million and 4 million vehicle sales respectively), according to research company Bloomberg New Energy Finance. Achieving such growth levels, however, will be dependent on two key factors - aggressive reductions in battery costs and rising gasoline prices.

In the short term, price will be the most significant limitation to the uptake of both plug-in hybrid vehicles like the GM Volt and fully electric vehicles such as the Nissan Leaf. The median base price of autos sold between July 2009 and June 2010 in the US was $21,800. By comparison, the Nissan Leaf will cost $26,280 after federal subsidies (including an a! llowance for charger installation), which is a higher price point than three quarters of all new auto sales.
The forecast is based on first identifying the 'addressable market' for plug-in vehicles - those consumer segments which can afford the vehicle, have suitable range requirements and have access to an appropriate location for charging. The second step models the proportion of consumers within the addressable market that might actually purchase such a vehicle.
Bloomberg New Energy Finance estimates that in 2011, the GM Volt will be targeting an addressable market of 7% of total US auto sales, and the Nissan Leaf 11%. However, actual sales will be much lower and limited by vehicle availability.
The model also forecasts sensitivity to gas prices, which will have a considerable effect on uptake. Rises in electricity prices do not affect sales as severely, Bloomberg New Energy Finance concludes, as fuel costs are a lower proportion of the tota! l cost of ownership for electric vehicles.
Michael Liebreich, chief executive of Bloomberg New Energy Finance, commented: "2011 will see the launch of a large number of new plug-in hybrid and electric vehicle models around the world. It's not just car companies who have a lot riding on their success - utilities; oil companies; whole countries will feel the impact if there is rapid uptake." Glen Walker, lead transportation analyst at Bloomberg New Energy Finance said: "Once we've seen the launch of mainstream plug-in electric vehicles, we'll have much more empirical data on consumer reactions, which will be vital in future forecasts."
Bloomberg New Energy Finance's plug-in vehicle forecasts are published as part of its Energy Smart Technologies Insight Service.
ABOUT BLOOMBERG NEW ENERGY FINANCE
Bloomberg New Energy Finance (BNEF) is the world's leading independent provider of news, data, research and analysis to decision makers in renewable energy, energy smart technologies, carbon markets, carbon capture and storage, and nuclear power. Bloomberg New Energy Finance has staff of more than 180, based in London, Washington D.C., New York, Tokyo, Beijing, New Delhi, Singapore, Hong Kong, Sydney, Cape Town, São Paulo and Zurich.
Bloomberg New Energy Finance serves leading investors, corporates and governments around the world. Its Insight Services provide deep market analysis on wind, solar, bioenergy, geothermal, carbon capture and storage, smart grid, energy efficiency, and nuclear power. The group also offers Insight Services for each of the major emerging carbon markets: European, Global Kyoto, Australia, and the U.S., where it covers the planned regional markets as well as potential federal initiatives and the voluntary carbon market. Bloomberg New Energy Finance's Industry Intelligence Service provides access to the world's most reliable and comprehensive database of investors and investments in clean energy and carbon. The News and Briefing Service is the leading global news service focusing on clean energy investment. The group also undertakes applied research on behalf of clients and runs senior level networking events.
New Energy Finance Limited was acquired by Bloomberg L.P. in December 2009, and its services and products are now owned and distributed by Bloomberg Finance L.P., except that Bloomberg L.P. and its subsidiaries (BLP) distribute these products in Argentina, Bermuda, China, India, Japan, and Korea. For more information on Bloomberg New Energy Finance: http://www.bnef.com.
About Bloomberg
Bloomberg is the world's most trusted source of information for financial professionals and businesse! s. Bloomberg combines innovative technology with unmatched analytics, data, news, and display and distribution capabilities, to deliver critical information via the Bloomberg Professional service and multimedia platforms. Bloomberg's media properties span television, radio, digital and print, making up one of the world's largest news organizations with more than 2,300 news and multimedia professionals at 146 bureaus in 72 countries.
Featured Product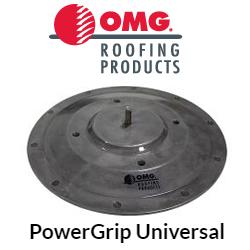 Eliminate Solar Rack Ballast and Reduce Rooftop Material Handling. PowerGripâ"¢ Universal (PGU) is a commercial roof mount system designed to secure solar racks and other equipment to any type of commercial roofing system. PGU provides a secure connection directly to the roof deck or structural members and is designed to reduce or eliminate ballast in solar racking systems, so there's less weight on the roof and less material handling. Made of heavy-duty cast aluminum, PGU units include a base ring which is secured through the roofing cover and into the structural roof deck, and a waterproof top plate.