Appointment Expands Leadership Team, Preparing Company for Continued Growth
AWS Truepower, LLC, an international leader in renewable energy consulting and information services, has announced that Mark Hellbusch, formerly AWS Truepower's Vice President of Information Services, has been promoted to Chief Operating Officer.

As Chief Operating Officer, Hellbusch will be responsible for managing AWS Truepower's global business operations, including ownership of profit and loss (P&L) for the company's three business units: Wind Developer Services including Investor Services, Solar, and Information Services. Hellbusch will also oversee business development, marketing and sales initiatives.
In his former role as Vice President of Information Services at AWS Truepower, Hellbusch lead the company's Information Services group with a focus on subscription services, which include the windNavigator®, Forecasting, and openWind® products. Hellbusch spearheaded the second and third generation launches of web-based windNavigator with a subscription model in support of wind energy siting and assessment.
"Mark brings a seasoned resume of business and technology successes," said Bruce Bailey, president and CEO at AWS Truepower. "His work has been integral to our ability to service clients with elite information services based on convenient subscription models. As COO, Mark is well poised to help us continue on a rapid growth track as we arm the renewable energy marketplace with a rich suite of consulting and information services, data and related intelligence."
A leader in wind project assessment, forecasting, reporting, mapping, feasibility and due diligence, AWS Truepower is also an established provider of solar project consulting and design services. Hellbusch's promotion comes at a time of tremendous market success for AWS Truepower, demonstrated by a number of recent partnership milestones and awards. This year alone, The National Renewable Energy Laboratory (NREL) tapped AWS Truepower's data for a nationwide offshore wind study, the New York State Energy Research and Development Authority (NYSERDA) commissioned AWS Truepower to conduct a Great Lakes offshore wind study, and in September 2010, AWS Truepower announced it will receive $2.15 million in federal funding from the U.S. Department of Energy (DOE) for short-term wind forecasting research and services.
Hellbusch, who joins an executive team of seasoned renewable energy industry veterans at AWS Truepower, has been involved in software product development, scientific programming, quality assurance, information technology, and engineering consulting since the 1980s. He has broad industry experience in renewable energy, enterprise software, automotive, healthcare, and aerospace. His extensive background includes implementing Software as a Service (SaaS) business models, product development for a variety software systems, implementing global development and quality assurance teams, leading engineering studies in electromagnetics and communication systems, and serving as the chief architect for large technical programs and for technology companies.
About AWS Truepower, LLC
AWS Truepower has been an international leader in renewable energy consulting and information services for over 25 years. AWS Truepower's suite of integrated services and innovative products support the full project lifecycle from resource and energy assessment, independent engineering, and due diligence, to performance assessment and power production forecasting. AWS Truepower's professional staff possesses in-depth knowledge and experience in all phases of project development, which ensures a consistent, integrated solution. AWS Truepower is online at www.awstruepower.com.
Featured Product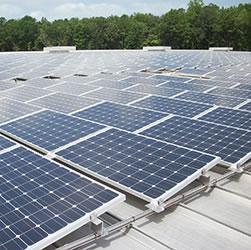 The Power Rail™ Commercial Mounting System is designed with the professional PV solar installer in mind. Both the XD/UD and LD/MD rails feature single tool assembly with the revolutionary patented RAD™ Lock-in-Place bolt for fast and secure module clamping. The high strength marine-grade aluminum rails include an integral wiring channel for securing cables and providing a professional finish.