The Spanish company PROINSO has launched the PROINSO Solar Training School initiative. This is an innovative international training program for photovoltaic solar energy installers, aimed at the 1,406 companies within its network of Qualified Installers around the world.
AGREEMENTS WITH LEADING TRAINING CENTERS IN EACH COUNTRY

The PROINSO Solar Training School is based, firstly, on several important partnerships with experienced and photovoltaic training centres in:
- Italy (ICIM): As a leader for more than 20 years in industrial certification for mechanics and facilities, ICIM has been able to establish itself as a reference in Italy and one of the top experts in the world, in evaluation services for renewable energies, especially solar PV, biomass and wind.
· England (EcoSkies): One of the leading centres in Britain with 5 training centres and more than 7,000 students. EcoSkies was established over 4 years ago as the first training provider dedicated entirely to the training of renewable energy installers. It has 4 PV installation schools.
· Greece (OIKONOMOTEXNIKH): With headquarters in Thessaloniki and Athens, it is one of the most advanced in PV training, with their contents being the most up to date incorporating the sector´s main technological innovations.
In addition, PROINSO is about to conclude deals with other centres in various countries including France, Canada and the United States.
With them, PROINSO will work on making more comprehensive programmes and contents targeted at photovoltaic installers, providing specialized technical equipment from the best brands (TRINA SOLAR, SMA, MECASOLAR, REC, CANADIAN SOLAR, etc.).
This training which will be given in the centres, with which PROINSO cooperates, is official in accordance with the state regulation in each country and is also specialized. It is made to fit the needs of industry professionals. It includes courses with official compulsory certificates serving installers to develop and exercise their activity. It should be remembered that in many countries installers need to be certified (NABCEP Certified in the United States or the new Installers´ Certification System which will enter into force on January 1, 2013 in Italy, among others). In fact, the Directive 2009/28/EC indicates about the promotion of the use of energy from renewable sources: Member States shall ensure that certification schemes or equivalent qualification schemes become or are available by 31 December 2012 for installers of small-scale biomass boilers and stoves, solar photovoltaic and solar thermal systems, shallow geothermal systems and heat pumps.
Those schemes may take into account existing schemes and structures as appropriate, and shall be based on the criteria laid down in Annex IV. Each Member State shall recognise certification awarded by other Member States in accordance with those criteria. This will be the natural tendency for most countries, as their government and its corresponding legislation will require an official accredited qualification for installers, so that they can conduct their professional activity.
Students in some of these centres will be able to carry out work practise in PROINSO´s own network of qualified installers and thus in turn the companies within the Network can access highly the highly skilled staff they require at the moment, closing the circle of cooperation between Centres-PROINSO-Installation Companies who are members of the network.
Training Centres will have training materials (modules, inverters, trackers) provided by PROINSO, in some cases, and in others by the manufacturers. Similarly, there will also collaborate with the Centres for the constant updating of contents incorporating technological innovations in the industry and market needs.
Members of the Network of Qualified installers in some countries will have discounts when enrolling on the courses organized by the centres.
CONFERENCES AND WORKSHOPS WITH MANUFACTURERS
Secondly, PROINSO Solar Training School includes the organization of seminars and training sessions and their own workshops organized in collaboration with leading manufacturers in different countries. In these seminars it will be PROINSO professionals, business manufacturers or companies within its Network of Qualified Installers, responsible for imparting training and presenting the latest innovations and new technologies.
The first seminars have already been scheduled:
GERMANY
June 23: Munich
September 20: Hamburg
UNITED STATES
July 20: San Francisco
September 12: Miami
October 27: Texas
SPAIN
September 20: Madrid
September 22: Barcelona
ITALY
September 22: Milan
September 28: Rome
FRANCE:
October 2: Lyon
November 10: Paris
Company sources stress that the PROINSO Solar Training School "is a new added value we offer to our Qualified Installers who are already able to benefit from this initiative." Besides the international and innovative character in the sector of the initiative, the leaders of the multinational note that "within the PROINSO Solar Training School we will be offering refresher training based on the professional expertise of leading companies in the sector, which allow our installers to be continually better prepared than the competition
ACCESS TO THE INTERNATIONAL TRAINING DATABASE
Finally, in the framework of the PROINSO Solar Training School, the company offers industry professionals on its websitewww.proinso.net
, the largest permanently updated database of courses, workshops and events in the international solar photovoltaic sector including our own conferences, training days and courses organised by third parties, as well as fairs and other events in the sector.

It should be noted that this Photovoltaic Training Database calendar has been scheduled using Google Calendar technology, which allows the user who wants to incorporate it into their PDAs to synchronise and update information in an open and ongoing fashion.


Featured Product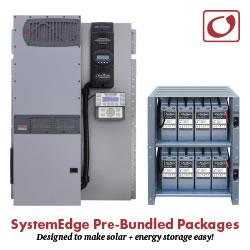 Each pre-bundled package is designed to make solar plus energy storage easy. By combining OutBack's most popular FLEXpower pre-wired systems with matched OutBack energy storage, SystemEdge takes the guesswork out of installing solar plus storage. Every SystemEdge package includes a FLEXpower factory pre-wired system, application-specific EnergyCell batteries and racking, FLEXware ICS Plus combiner and all the necessary connection hardware.