Arvada, Colorado – July 6, 2011: Parabolic trough maker SkyFuel was honored as Concentrating Solar Power (CSP) Technology Supplier of the Year at last week's CSP Today USA Summit in Las Vegas. The award recognizes SkyFuel's successful attention to cost reduction and benefit to local supply industries, and validates SkyFuel's commercial approach which navigates the fine line between cutting edge innovation and proven, bankable technology. A select panel of industry experts chose SkyFuel over finalists Siemens and Schott.
Market pressures to lower costs and stimulate job creation are forcing CSP technology companies to innovate. SkyFuel leads the way in this regard, using ReflecTech® Mirror Film as the cost reduction catalyst for a series of design improvements that make the SkyTrough® not just less costly than all other parabolic troughs, but also more empowering to the local economy of the project region.

Monolithic ReflecTech® Mirror Film panels, used in place of glass mirror facets, make the SkyTrough® less costly because they are lighter and simpler. The larger, lighter mirrors result in a lighter concentrator, lower cost of shipping, and easier installation. The highly reflective panels slide into precision guide tracks that increase optical accuracy and eliminate the need for field adjustment.
When SkyTrough® is chosen as the project technology, the local economy gets a big boost. 60% of SkyTrough® components can be supplied by standard aluminum and steel manufacturers in any country. The lamination equipment to make the large, single piece mirrors can be set up on or near the project site, and operated by local labor.
"SkyFuel's objective has always been to bring to the CSP market a low cost, high performance parabolic trough solar collector that can be easily deployed around the world," remarked Kelly Beninga, SkyFuel's Chief Commercial Officer. "We are honored to be chosen CSP Technology Supplier of the Year by the industry, in recognition of our achievement."
About SkyFuel
SkyFuel, Inc. manufactures the SkyTrough® parabolic trough concentrating solar collector - a breakthrough in cost and constructability resulting from significant design and material innovations. SkyFuel's wholly owned subsidiary, ReflecTech, Inc. holds the exclusive license to manufacture and market ReflecTech® Mirror Film. SkyFuel is developing next-generation, high-temperature parabolic trough and linear Fresnel systems.
Featured Product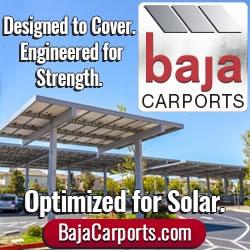 Baja Carports offers an extensive solar support system product line customized to customers' site specifications by in-house engineers, meeting their parking lot coverage, plus optimal PV production needs. Baja's Full Cantilever Tee is often paired with its Semi and Full Cantilever carports to meet live/loads up to 60psf and wind speeds to 160mph. All Baja products are pre-fabricated, bolted connections, pre-galvanized structural steel for fast on-site installation and project aesthetic requirements."