application support information for transformer-less single phase solar inverters
August 16th 2011 - Vincotech is able to offer a wide spectrum of power modules for solar applications.

The announced technical paper provides application support information for transformer-less single phase solar inverter applications. It discusses different output filter configurations, like dual inductor with split winding and dual inductor with single winding.
It is based on the 10-FZ06BIA045FH-P897E Power Module from Vincotech, providing a single module solution integrating booster and inverter power components. The module is able to provide an output power of up to 6kW, but for improved efficiency targets a nominal power of 3kW is recommended.
Please see more information about this subject under:
http://www.vincotech.com/news/articles/design-concept-for-a-transformerless-solar-inverter.html?campaign_id=transformerless-solar
About Vincotech:
Vincotech, an independent operating unit within Mitsubishi Electric Corporation, is a market leader in power modules in development and manufacturing of high-quality electronic power components for Motion Control, and Renewable Energy applications.
With some 500 employees worldwide, backed by vast experience and a long history in electronics integration, Vincotech leverages these assets to help customers attain maximum market success.
For more information please see: www.vincotech.com
Contact:
Michael Frisch,
Product Marketing Manager,
Vincotech GmbH,
Email: michael.frisch[at]vincotech[dot]com
Tel: +49 89 878067-142
Distributed on behalf of Vincotech GmbH by NeonDrum news distribution service (http://www.neondrum.com)
Featured Product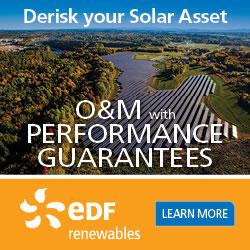 EDF Renewables offers the same innovative solutions that maximize the performance of our own 5.2 GW of installed projects. Because we're not an equipment manufacturer, our recommendations are transparent and data-driven. We cover the entire project lifecycle: from pre-commissioning support, through warranty and post warranty operation, to late stage and decommissioning.