Turbine Supply, Service Agreements Total Approximately $750 Million --- 2011 and 2012 Projects to Generate 560 Megawatts of Clean Electrical Power
SCHENECTADY, N.Y.—October 27, 2011—Demonstrating confidence in the U.S. wind energy sector, Houston-based BP Wind Energy is purchasing 350 GE (NYSE: GE) 1.6-megawatt (MW) wind turbines for U.S. wind farm projects being developed in 2011 and 2012. Total value of the equipment orders and a five-year services agreement is approximately $750 million.

GE's wind turbines will generate more than 560 megawatts of electrical power for the projects. BP Wind Energy placed two wind turbine orders with GE—the first for 88 units and second for 262—for delivery in 2011 and 2012, respectively. BP Wind Energy's Mehoopany Wind Farm, about 20 miles from Scranton, Pa., will use GE's 1.6-82.5 technology. Flat Ridge 2 Wind Farm will be built using 262 GE 1.6-100 wind turbines and will be located 43 miles southwest of Wichita, Kan. The equipment portion of the Flat Ridge 2 contract was part of the $1.5 billion in wind turbine orders and commitments announced by GE on September 20.
"As we continue to aggressively expand our U.S. wind energy project portfolio, we are pleased to be working with our colleagues at GE, a company with whom we have a long-term strategic relationship that delivers proven wind turbine technology and competitive maintenance contracts," said John Graham, president and CEO, BP Wind Energy. "To date, about 30 percent of our wind fleet is powered by GE wind turbines and we are delighted to once again be partnering with GE to deliver affordable, renewable electricity that enhances this nation's energy security and independence."
"We continue to see strong demand for our advanced wind turbine technology because of its capability to meet the economic and environmental priorities of operators like BP Wind Energy," said Victor Abate, vice president of renewables for GE Power & Water. "We have been supporting BP Wind Energy projects since 2007 and welcome the opportunity to participate in this latest series of projects, which will help to build additional momentum for wind power in the United States."
GE's 1.6-100 wind turbine, selected for the BP Wind Energy's Flat Ridge 2 project, is designed for increased performance and is the world's most efficient wind turbine in its class. With blades and towers that extend 100 meters, equivalent to the height of a 35-story building, the 1.6-100 captures additional wind energy. GE has received more than two gigawatts in orders for the 1.6-100 wind turbine since it was commercially introduced earlier this year.
The GE wind turbines chosen for the Mehoopany site feature an 82.5 meter rotor for class III wind conditions. Both advanced technology machines build on the success and the global experience of GE's 1.5-MW wind turbine, the industry's most widely deployed megawatt-class machine with more than 17,000 installed worldwide.
About BP
BP Wind Energy is a principal owner and operator of wind power facilities with interests in 13 wind farms. BP Wind Energy has a gross generating capacity of nearly 1,600 MW—enough electricity to power approximately 500,000 average American homes. For more information, visit the company's Web site at http://www.bpalternativenergy.com.
BP is one of the world's largest energy companies. In the United States, BP has approximately $52 billion in assets and employs some 23,000 staff. The company's main businesses are exploration and production of oil and gas; refining, manufacturing and marketing of oil products and petrochemicals; transportation and marketing of natural gas. With a growing business in wind power, advanced biofuels and one of the largest solar farms on the east coast, BP Alternative Energy will have invested around $7 billion in energy development, including $4 billion in the United States by the end of 2011. Our commitment is helping to create a secure and sustainable energy future for us all.
About GE
GE (NYSE: GE) is an advanced technology, services and finance company taking on the world's toughest challenges. Dedicated to innovation in energy, health, transportation and infrastructure, GE operates in more than 100 countries and employs about 300,000 people worldwide. For more information, visit the company's Web site at www.ge.com.
GE also serves the energy sector by providing technology and service solutions that are based on a commitment to quality and innovation. The company continues to invest in new technology solutions and grow through strategic acquisitions to strengthen its local presence and better serve customers around the world. The businesses that comprise GE Energy—GE Power & Water, GE Energy Management and GE Oil & Gas—work together with more than 100,000 global employees and 2010 revenues of $38 billion, to provide integrated product and service solutions in all areas of the energy industry including coal, oil, natural gas and nuclear energy; renewable resources such as water, wind, solar and biogas; as well as other alternative fuels and new grid modernization technologies to meet 21st century energy needs.
Featured Product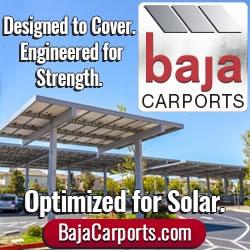 Baja Carports offers an extensive solar support system product line customized to customers' site specifications by in-house engineers, meeting their parking lot coverage, plus optimal PV production needs. Baja's Full Cantilever Tee is often paired with its Semi and Full Cantilever carports to meet live/loads up to 60psf and wind speeds to 160mph. All Baja products are pre-fabricated, bolted connections, pre-galvanized structural steel for fast on-site installation and project aesthetic requirements."