Trade War with China Looms
WASHINGTON--Leaders and member companies of the Coalition for Affordable Solar Energy (CASE) today responded to the preliminary Anti-Dumping ruling by the U.S. Department of Commerce (DOC) with the following statements:

Jigar Shah, the President of CASE, stated, "Today SolarWorld received one of its biggest subsidies yet – an average 31% tax on its competitors. What's worse, it will ultimately come right out of the paychecks of American solar workers. Fortunately, these duties are much lower than the 250% tax that SolarWorld originally requested. This decision will increase solar electricity prices in the U.S. precisely at the moment solar power is becoming competitive with fossil fuel generated electricity."
"At the same time, CASE recognizes that today's decision is 'preliminary.' Between now and a final decision before the end of the year, there are many issues that will be addressed and whose resolution would lead to a significantly lower tariff. CASE will continue to fight SolarWorld's anti-consumer and anti-jobs efforts to ensure a better result for America's solar industry," continued Shah.
"The global market for solar cells and modules is more competitive than ever, and companies around the world, including SolarWorld, have been forced to cut prices to compete," Shah added. "Ultimately, free global competition is good for American consumers and American workers. That's why all of the major segments of the American solar industry, including solar manufacturers, have united to oppose SolarWorld's reckless and hypocritical campaign to raise solar prices," Shah concluded.
American Solar Project Development and Construction Companies Respond to Tariff Decision
The vast majority of the 100,000 jobs in the American solar industry are in sales, marketing, design, installation, engineering construction and maintenance of solar projects. These jobs depend on affordably-priced solar panels, and companies would have to lay-off workers if solar panel prices rise as a result of this investigation. Consequently, American solar developers and installers have expressed unified opposition to SolarWorld's campaign to impose taxes on solar panels in the U.S., including:
According to Kevin Lapidus, Senior Vice President Legal and Government Affairs for SunEdison, "The U.S. solar industry has been growing, adding new solar electric systems, creating jobs and investing billions of dollars in the U.S. energy infrastructure. By increasing the price of modules and therefore the price of solar energy, these tariffs will undermine the success of the U.S. solar industry and reduce the ability of solar energy to compete with electricity generated from fossil fuel."
Ken Button, co-founder and President of Verengo Solar, stated, "As the second largest residential solar company in the country, Verengo has helped thousands of middle class families save money during tough economic times by installing solar. Because our customers are very price sensitive, today's decision to increase costs for solar cells and panels will make it harder for American families to access solar."
American Solar Manufacturers Respond to Tariff Decision
The majority of American solar manufacturers, which outnumber those in the Coalition for American Solar Manufacturing (CASM), have also expressed broad opposition to SolarWorld's calls for protectionism in the American solar industry. Companies representing more than 3,000 American manufacturing jobs, including GT Advanced Technologies, REC Silicon, MEMC, Suntech, and others, have all expressed their opposition to trade barriers and to a U.S.-China solar trade war. By comparison, members of CASM, which supports SolarWorld's trade fight, represent significantly fewer solar manufacturing jobs.
Tore Torvund, CEO of REC Silicon, with 500 solar jobs in the United States, commented, "This decision is short-sighted in the extreme and a severe setback for President Obama's clean energy program with its goal of expanding the use of solar and other renewables. Further, we are very concerned about the increased likelihood that China will retaliate with their own tariffs on polysilicon exports from U.S. producers such as REC Silicon. Triggering a solar trade war is not in the best interests of the U.S. solar industry or its customers."
Tom Gutierrez, CEO of GT Advanced Technologies, with another 500 solar jobs in the United States, stated, "Today's Department of Commerce decision subsidizes a German-owned company to the tune of an average 31% tax on its competitors and potentially harms U.S.-headquartered companies like GT Advanced Technologies, Dow Chemical, REC Silicon and MEMC. Ultimately, protectionism fosters dependence and high-cost business models, rather than the innovation and agile approaches required for companies to succeed in the global marketplace. Now is the time for the U.S. solar industry to move forward with the development of advanced technologies that create jobs and enhance our energy security—in spite of this new barrier. American solar manufacturing can compete without special protections."
CASE Notes the Hypocrisy of SolarWorld's Allegations
Finally, CASE noted that SolarWorld has openly admitted to selling its solar cells and modules at a loss, as all solar manufacturers globally are struggling to remain profitable amidst a highly competitive market environment for solar cells and modules.
According to testimony before the U.S. International Trade Commission (ITC) and media interviews, SolarWorld has stated it is selling its products below the cost of production in an effort to maintain market share. This aggressive pricing strategy is exactly what German-based SolarWorld accuses its China-based competitors of doing as part of petitions before the U.S. DOC's anti-dumping investigation.
One Analyst's View
According to one industry analyst, Jesse Pichel with Jeffries Group Inc., "Environmentalists and the unemployed should be equally disappointed with this decision because lower cost solar panels make solar more competitive with dirty fossil fuels. It should be clear by now that there are more U.S. jobs on the installation side of the solar business than on manufacturing. These cases have a chilling effect on business and it will linger for a long time. It's unfortunate that SolarWorld has taken this scorched Earth approach and that they are distracting from the growth of U.S. jobs and affordable solar energy."
About CASE: The Coalition for Affordable Solar Energy (CASE), a coalition of American solar companies representing 97% to 98% of the U.S. solar industry jobs, believes free trade and industry competition are critical to making solar electricity affordable for everyone. CASE is united in its commitment to creating jobs through the growth and development of the American solar industry. For more information about CASE, please visit: http://coalition4affordablesolar.org/
Featured Product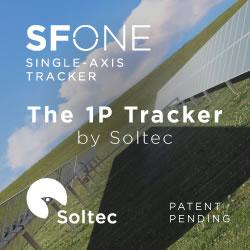 SFOne is the 1P single-axis tracker by Soltec. This tracker combines the mechanical simplicity with the extraordinary expertise of Soltec for more than 18 years. Specially designed for larger 72 an 78 cell modules, this tracker is self-powered thanks to its dedicated module, which results into a lower cost-operational power supply. The SFOne has a 5% less piles than standard competitor, what reduces a 75% the labor time.