IKEA tapped North American Roofing to install nearly two million square feet of roofing and solar panels on distribution center roof.
Asheville, NC May 17, 2012

Asheville, N.C. based North American Roofing today announced it has commenced installation of the third largest solar roofing project in the United States. More than 1.7 million square feet of roofing and 730,000 square feet of solar laminate panels will be installed on the IKEA distribution center located in Perryville, Md. Three North American Roofing crews will complete the re-roofing and solar project in approximately 5 months.
"Working with a household name like IKEA is exciting for us, and when complete the solar roof will add substantially more energy to the power grid than the distribution center will pull from the grid," said Brian Verble, CEO of North American Roofing. "IKEA sees the value and benefit of installing a solar roof and is a driving force behind solar innovation as we continue to move toward alternative energy sources. With this project, they are definitely making a statement that will certainly get the attention of their peers."
The solar project will be the largest in North American Roofing's history, and when complete, the 34,000 solar laminate panels will generate and add 4.2 megawatts to the power grid. While several IKEA facilities in the U.S. employ solar roofing, the massive size and scope of the project, equivalent to almost 36 football fields, underscores IKEA's commitment to sustainability.
With a well-educated group of installers, project managers, technicians, sales staff and executives, North American Roofing has become synonymous with long-lasting, sustainable roofs, customer satisfaction and innovation. The company is built upon a team and family model where good people, good ideas and good value work together. With a keen eye for customer satisfaction and strategic industry relationships, the company has ranked among Inc. Magazine's "500 Fastest Growing Companies".
"We are a third-generation company, my grandfather, family and myself built the company on a foundation of family values and to be a vehicle for community and family building. That's why we're all here," said Verble. "While we want to be the most trusted, respected and best commercial roofing company in the U.S., we're much more than that. North American Roofing is creating a positive effect on our region's economy and community, and the communities in which we work, especially when it is needed most."
About North American Roofing
Headquartered in Asheville, N.C., North American Roofing has been a pioneer in the commercial single-ply roofing industry since 1979. North American Roofing specializes in commercial and industrial low-slope roof system installation, repair and preventative maintenance programs. Family-owned and operated for more than three generations, the company has installed and serviced more than 650 million square feet of roofing on more than 9,500 facilities across the United States in its 33-year history.
Featured Product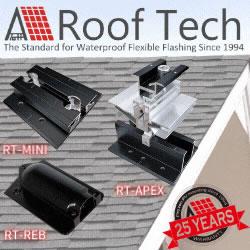 Now Roof Tech brings you the most innovative, watertight mounting systems ever developed for solar photovoltaic systems. Designed and manufactured exclusively for us by Japan's longtime leader in roofing technologies, Roof Tech products are 100% code-compliant and offer fast, simple installation and huge savings on shipping costs due to their compact, rail-less design. Learn more about our full line of versatile PV mounting solutions now available for residential installations. The next generation in rooftop solar mounting solutions."