Installation marks first solar deployment in Prescott Valley
SANTA CLARA, Calif., May 30, 2012 – Leading Arizona electric services provider, Wilson Electric, announced today the completion of a 1.5 megawatt (MW) solar supplement for the energy needs of the Town of Prescott Valley, Ariz., Tank Farm and Wastewater Treatment Plant, which house a portion of the town's water pumping stations and wastewater processing. The installation of "CIS" modules manufactured in Japan by Solar Frontier mark the first solar installation for the Town of Prescott Valley.

Financed by Smart Energy Capital, the installation began operating at the beginning of March 2012, and a ribbon-cutting ceremony was held on May 1, 2012, which was attended by the Mayor of Prescott Valley, Harvey Skoog. The installation is expected to provide a substantial renewable contribution to the municipal operations of a town with a population over 40,000.
"Wilson Electric began testing Solar Frontier modules side-by-side with other technologies in February 2010," said Greg Ashley, chief operating officer of Solar Frontier Americas. "They became a Solar Frontier customer based on good results, and installations like the one in Prescott Valley continue to confirm Solar Frontier's value."
Solar Frontier CIS modules were chosen because of their high energy efficiency and performance in hot temperatures. They are well-suited to opportunities that lower the energy bills of large-consumption backbone facilities such as Prescott Valley's water utility system.
"Over the past five years, Wilson Electric has completed over 10,000 projects in Arizona, ranging in scale from the smallest service contract to the largest complete electrical and special systems packages," said Mark Holohan, Solar Division Manager, Wilson Electric. "This has given us exceptionally deep insight into both the energy needs and the climate challenges of Arizona governments and businesses, and we have found that Solar Frontier's CIS modules fit into the picture very well."
About Solar Frontier
Solar Frontier K.K., a 100% subsidiary of Showa Shell Sekiyu K.K. (TYO:5002) ("Solar Frontier"), has a mission to create the most economical, ecological solar energy solutions on Earth. Building on a legacy of work in solar energy since the 1970s, Solar Frontier today develops and manufactures CIS (denoting copper, indium, selenium) thin-film solar modules for customers in all sectors around the world. Solar Frontier's gigawatt-scale production facilities in Miyazaki, Japan, integrate compelling economical and ecological advantages into every module: from lower energy requirements in manufacturing to the higher overall output (kWh) of CIS in real operating conditions. Solar Frontier is headquartered in Tokyo, with offices in Europe, the U.S.A., and the Middle East. Visit www.solar-frontier.com for more information.
Featured Product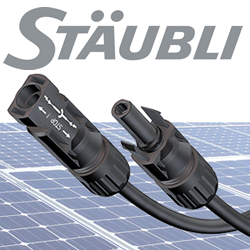 ​Stäubli Electrical Connectors are used on more than 300 GW, over 50% of the PV capacity worldwide. The MC4 family of UL and TUV listed products include connectors, in-line fuses, branch connectors, cable assembly and more.