Company develops strategies to bring benefits of renewable energy technologies to Latin American nations
MIAMI--Agrasun, a innovative Miami company with biofuels expertise, is opening a "renewable energy experience" showroom in Miami's Design District on Thursday, May 31, from 8 to 11 p.m. to display technologies of interest to its Latin American government and business client base.

"Tremendous opportunities exist to employ renewable energy technologies to improve the lives of Latin Americans, including the rural poor," said Carlos M. Prio, president of Agrasun.
Agrasun's solutions harness a broad spectrum of cutting-edge technologies with many useful applications. Solutions range from self-contained solar energy systems for remote rural areas to energy storage systems for police stations and cellular communication towers for government-owned utilities to LED streetlight conversions for municipalities. The company employs engineers in Miami and Latin America.
The showroom at 2 NE 40th Street, Miami, will display a wide variety of applications and also functions as a training center. This showroom becomes one of five – the others are in Chile, Colombia, Uruguay and Venezuela. Later this year, additional showrooms are to open in Panama, Costa Rica, Honduras, the Dominican Republic, Haiti and Peru.
Agrasun recently completed its first rural solar energy installation in the Dominican Republic and is piloting others in Colombia, Haiti and Venezuela. Also, Agrasun is in the process of providing renewable energy solutions for police stations in Chile.
Current ongoing projects include conversions to LED streetlights in three Chilean cities and supplying highly energy-efficient LED lighting for a new storage warehouse at Uruguay's Montevideo Free Zone. Additionally, Panamian authorities and Agrasun are working together to provide and offer LED lighting and portable energy storage systems for the Panama Canal.
About Agrasun
Headquartered in Miami to serve the Latin America region, Agrasun seeks to become a premier implementer of renewable energy solutions in Latin America and beyond by allying itself with innovative core technology providers and top tier local partners. These solutions shall significantly decrease energy costs for mission-critical applications while benefiting user communities ecologically and socially. For more information, visit www.agrasun.com
Featured Product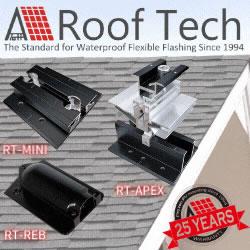 Now Roof Tech brings you the most innovative, watertight mounting systems ever developed for solar photovoltaic systems. Designed and manufactured exclusively for us by Japan's longtime leader in roofing technologies, Roof Tech products are 100% code-compliant and offer fast, simple installation and huge savings on shipping costs due to their compact, rail-less design. Learn more about our full line of versatile PV mounting solutions now available for residential installations. The next generation in rooftop solar mounting solutions."