Sacramento Facility Includes California's First Digestion-Based Renewable Natural Gas Fueling Station
SACRAMENTO, Calif.--Clean World Partners and Atlas Disposal Industries today broke ground on construction of the nation's largest commercial-scale, high solids anaerobic digestion (AD) system, and on California's first AD-based Renewable Natural Gas Fueling Station.

Clean World Partners' Organic Waste Recycling Center at the South Area Transfer Station in Sacramento will convert 25 tons of food waste per day collected by Atlas Disposal from area food processing companies, restaurants and supermarkets into renewable natural gas. In 2013, the facility will be expanded to process 100 tons of waste per day, making it the largest commercial-scale, high solids AD system in the United States.
When complete, the Organic Waste Recycling Center will replace 1 million gallons of diesel per year with renewable natural gas and produce 2 million kilowatt hours of electricity per year.
Atlas' Renewable Natural Gas Fueling Station will use natural gas produced by the digestion system to fuel the company's clean-fuel fleet, as well as vehicles from area jurisdictions and agencies. Natural gas produced from the initial 25-ton per day operation would fuel approximately 80 school buses for one year.
Clean World's Organic Waste Recycling Center is based on AD technology developed at UC Davis to convert food waste, agricultural residue and other organic waste into renewable energy, fertilizer and soil enhancements. The South Area Transfer Station system when built out will divert nearly 37,000 tons of waste annually from landfills.
"Our development of this facility makes clear the viability of this technology," said Michele Wong, CEO of Clean World Partners. "Our systems are adaptable to a wide range of situations and we can get them up and running quickly. We're especially excited with this center about the use of renewable natural gas as vehicle fuel."
The project's first phase is expected to be completed this summer.
"We're proud of our involvement in developing these cutting-edge facilities," said Dave Sikich, CEO of Atlas Disposal. "By using renewable natural gas to fuel more vehicles, we're helping to improve our region's air quality."
The facilities will create 16 long-term jobs in Sacramento and generate more than $1.1 million in annual combined tax revenue for the City of Sacramento, Sacramento County and the state.
Clean World Partners and American River Packaging in April opened the nation's first commercial high-solid AD system at American River Packaging's Sacramento facility.
About Clean World Partners
Clean World Partners provides businesses and communities with cost-effective solutions for converting organic waste to renewable energy, soil enhancement products and other valuable byproducts. The company was formed in 2009 and bases its waste recovery systems on a proprietary solution using anaerobic digestion, a technology that converts waste to renewable energy and other valuable byproducts through a biological system with a mix of naturally occurring bacteria. Clean World Partners currently offers scalable, affordable and flexible anaerobic digestion technologies for converting a wide variety of organic waste materials into high-quality biomethane, marketable bio-based products and clean water.
About Atlas Disposal Industries
Established in 1998, Sacramento-based Atlas Disposal Industries focuses on educating businesses about their recycling potential, and has emerged as the fastest growing waste and recycling removal company in the area. Atlas Disposal now is the largest independently owned waste and recycling service provider in Sacramento.
Featured Product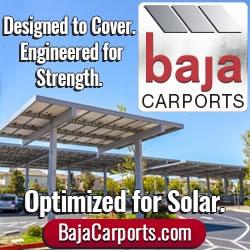 Baja Carports offers an extensive solar support system product line customized to customers' site specifications by in-house engineers, meeting their parking lot coverage, plus optimal PV production needs. Baja's Full Cantilever Tee is often paired with its Semi and Full Cantilever carports to meet live/loads up to 60psf and wind speeds to 160mph. All Baja products are pre-fabricated, bolted connections, pre-galvanized structural steel for fast on-site installation and project aesthetic requirements."