The world's largest exhibition for the solar industry gets underway on June 13, 2012 in Munich
Munich, June 13, 2012 – Today at 9:00am, the doors to the world's largest exhibition for the solar industry reopen at Messe München. A total of 1,909 exhibitors from 49 countries are presenting their products, solutions and services in the fields of photovoltaics (PV), solar thermal technologies and PV production technologies until June 15 at Intersolar Europe. Approximately 80,000 visitors are this year expected to journey to the exhibition, which covers 170,000 square meters of exhibition space in 15 halls and an outdoor exhibition area. The Intersolar Europe Conference takes place in parallel from June 11-14, 2012 and boasts approximately 400 speakers. The organizers are expecting about 2,500 attendees to take part in the conference and its Side Events. In addition to the latest technologies, the focus of this year's conference and exhibition are chiefly the issues affecting the future of the industry, which are being highlighted and debated in events, discussions and special exhibits at international level. These include the topics of Electricity Storage, Grid Integration and Heating with Solar Power. Furthermore, the varied developments in international markets are also at the center of attention. This is another area where organizers are anticipating extensive dialog between political and industrial representatives from many countries, and are thus creating platforms for international exchange.

This year, 54% of exhibitors at Intersolar Europe are from abroad – from a total of 49 countries. Germany is home to 871 of the exhibitors, followed by China with 388, Italy with 78, Spain with 48, and Taiwan and Austria with 46 companies each.
Electricity storage and grid integration at Intersolar Europe
In 2011, more photovoltaic systems were installed worldwide than ever before. The growing proportion of solar power is changing power grids, as their infrastructure is still designed for centralized power production with few fluctuations. In future, power storage systems will help to stabilize the grids, as they are able to store electricity which can then be consumed at times when yields are lower. New, effective power storage systems and innovative solutions for integrating solar power into the power grids are therefore important cornerstones for the future of energy supply. They offer the solar industry enormous potential, and will play a significant role in implementing Germany's new energy policy. Intersolar Europe is showcasing the latest developments and pioneering solutions at the PV ENERGY WORLD special exhibit in hall C4, booth C4.230. Specialist presentations at the special exhibit's forum round out the program and provide an insight into the business models of the future.
The special exhibit PV and E-Mobility in the outdoor exhibition area of Messe München looks at mobile energy storage with electric vehicles. This special exhibit shines the spotlight on the latest carport solutions, charging stations and electric vehicles themselves. To complete the program, participants are able to experience the future of mobility by test driving an electric vehicle.
New markets for photovoltaics
The prices of photovoltaic modules and installations have fallen by over 65% since 2006. Despite the cost pressures felt by the industry as a consequence, the lower prices are opening up new markets and applications to companies.
One example of this is the growing number of large-scale photovoltaic installations worldwide. Eighteen percent of commercial PV power plants across the world already have an output of between 20 and 100 megawatt peak (MWp), with ever larger projects expected for the future. The fundamental reason behind this development is the reduced investment costs: Whereas the cost per megawatt peak (MWp) of capacity was still around €6 million in 2008, by 2011 this had dropped by around two thirds to just €2 million/MWp. Numerous international exhibitors registered for Intersolar Europe under the category of PV power plants and are presenting products and services ranging from the hottest system solutions through mounting systems and inverters to monitoring technology and the latest modules.
Middle East and North Africa catching up
Solar energy is also gaining ground in the MENA region (Middle East and North Africa), not least thanks to the fallen costs. Investments in solar power are particularly worthwhile for countries that are dependent on oil and gas imports, such as Jordan and Morocco, or for states that use large quantities of their own oil to generate electricity, like Saudi Arabia and Kuwait. Such investments even pay off without any state subsidization being necessary. According to the recent study Sunrise in the Desert, photovoltaics becomes competitive with fossil fuel-based power production from an oil price of US$80 per barrel upwards – and international crude oil prices hit the US$100 mark a long time ago. The solar industry is therefore also tapping new, attractive markets in this region of the world, which are explored in detail at the Intersolar Europe Conference.
Solar thermal technologies with new applications in manufacturing and housing industries
According to the new Solar Thermal Roadmap study developed by the German Solar Industry Association (BSW-Solar) in collaboration with Intersolar Europe, the solar heating market in Germany is set to grow by 12.5% annually until 2020. The capacity for solar heat generation will thus rise to 14 billion kilowatt hours per year in Germany over the next eight years.
Whereas solar thermal technologies in Germany have, to date, been used primarily to supply hot water for private households, the range of applications is set to expand greatly in years to come. Multi-family homes in particular, but also commercial and industrial plants, will be able to benefit more from the sun's power in future – for example by using solar process heat in their manufacturing processes. A key incentive for using solar thermal installations in industrial settings in future may be the rising cost of raw materials, which makes investments attractive in the long term. In addition, statutory guidelines on reducing CO2 emissions in industrial plants are increasingly prompting businesses to rethink their energy policy. The latest developments in the solar thermal industry are presented by exhibitors at Intersolar Europe in halls B1 and B2.
International experts meet at Intersolar Europe Conference
The Intersolar Europe Conference takes place in parallel to Intersolar Europe from June 11–14, 2012 in the ICM – Internationales Congress Center München. This year, around 400 speakers and 2,500 attendees are expected to participate. The conference consolidates the exhibition topics and places markets and technologies, industry and research in an international context. The highlights of this year's conference program include Grid Stability, State-of-the-Art Storage Technologies and Large-scale Photovoltaic Power Plants. Topics such as Solar Heat for Industrial Processes, Solar Cooling, Solar Heating Concepts and Heating with Solar Power are at the center of discussions surrounding solar thermal technologies. A further focal topic for 2012 is Global PV Markets. Several sessions on individual markets across the world are taking place throughout the conference, including the all-day session on June 13 entitled Global PV Markets: MENA Region. Alongside the conferences, workshops and seminars, an array of networking events also invite participants to exchange information and ideas with international experts.
Intersolar Europe 2012 takes place from June 13–15 at Messe München.
For further information on the Intersolar Europe Conference, please visit our website at www.intersolar.de
About Intersolar
With over 3,500 exhibitors and 120,000 visitors spanning three continents, Intersolar is the world's leading exhibition series for the solar industry.
Intersolar Europe takes place annually at Messe München. Today, it is the world's largest exhibition for the solar industry. In 2011, 2,286 international exhibitors and around 77,000 trade visitors were welcomed to Intersolar Europe. Intersolar Europe focuses on the areas of photovoltaics, PV production technologies and solar thermal technologies. Since its founding, it has become established as the most important industry platform for manufacturers, suppliers, wholesalers and service providers. The accompanying Intersolar Europe Conference consolidates the topics of the exhibition. In 2011, more than 400 speakers and around 2,500 attendees discussed current industry topics and investigated the background of technological, market and political development.
Featured Product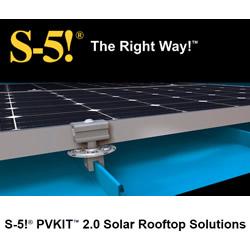 The concept of combining PV arrays with standing seam metal roofing is growing-for good reasons. Metal roofs have a life expectancy of more than 40 years. Shouldn't the mounting system last as long? With S-5! zero-penetration attachment technology and PVKIT 2.0, the solarized metal roof is the most sustainable system available -and without compromising roof warranties! PVKIT 2.0 is the also the best solution for attaching PV modules directly to any exposed fastener metal roof.