Solar technology to replace traditional kerosene fishing lamps
Catching fish at night implies using a light source which, in Europe and North America, is often a diesel generator powered spot. In places such as the Lake Victoria, spread across three African nations (Uganda, Kenya and Tanzania), thousands of liters of kerosene are used every night for the exact same purpose.

The meeco Group has launched a brand new product innovation to answer this issue, it is called sun2fishTM. This is now the second product launch made by the Swiss group this year, having introduced in April its remote water pumping solution, sun2flowTM.
Thomas Petsch, former CEO of a+f GmbH and creator of the sun2fishTM buoy explains the reason behind the solution. "During my recent trips to Tanzania, I noticed that fishermen use kerosene on a daily basis for night fishing. This was obviously shocking considering the number of boats fishing in such lakes and the risk of kerosene spills into such sensitive ecosystems. Being the solar energy believer that I am, I set myself as a goal to find a renewable answer to this problem." sun2fish is mainly aimed at fishermen who currently use kerosene to catch fish. "It is a healthy, green and durable solution for night time fishing", insists Petsch.
The solution is composed of two core elements, a stainless steel buoy and a 1 kWp solar photovoltaic station, which recharges up to eight buoys simultaneously. At night, the buoy illuminates the water surface using a strong LED light, and once back to shore it can also be used for household lighting or recharging purposes.
"We see a huge market potential for sun2fish. Every month, fishermen spend more money due to the continuous increase of kerosene prices. Savings produced with sun2fish make it a profitable investment in less than two years time," says Dieter Trutschler, Sales Director of The meeco Group. "Our company is currently working on a leasing business model for locals to create their own sun2fish cooperative and rent the buoy on a daily, weekly or even monthly basis" adds Trutschler.
Test units have been deployed and are in operation in Tanzania since the beginning of the year, and The meeco Group expects to start mass production very soon. "In order to fine tune our market approach, our goal is to install several more units in African lakes until the end of the year. We will work closely with local communities and micro credit institutions to try and eradicate kerosene use by the fishermen with reduced equipment, while promoting fair and reasonable fishing methods" emphasizes Dieter Trutschler.
For further information visit: www.meeco.net
Featured Product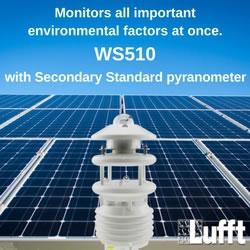 Professional weather sensors form the heart of large solar plants supporting their operation and performance. Lufft was the first manufacturer to combine several sensors in one housing, bringing the largest multiparameter weather sensor family with 19 members into being. Many of them are well-suited for solar site assessment and continuous monitoring. The most commonly used one is the WS600 delivering data on temperature, air pressure, wind, relative humidity and precipitation. Through its open protocol, it can easily be attached to radiation sensors e.g. from Kipp&Zonen. Other models have an integrated Silicon, Second Class or Secondary Standard radiation sensor.