Solar Energy is Helping California Agriculture Compete in a Global Market
FREMONT, Calif., Jun 25, 2012 -- GreenVolts(R), Inc., provider of the industry's first and only complete and fully integrated solar system, today announced the commissioning of a 464-kW solar plant at Van Dyke's Rice Dryer in Pleasant Grove, Calif. Chosen over traditional silicon and thin-film technologies for its higher efficiency, the GreenVolts CPV system was the only technology that could offset all of the operation's electric costs in the limited land area available and was more economical overall.

"We are excited about the long-term power supply from this solar project that will allow us to control costs for our growers," said Jim Van Dyke, Owner of Van Dyke's Rice Dryer. "In the limited land area we had available, the GreenVolts system provided more energy than any of the solar alternatives and presented the best financial return."
The Van Dykes, who have been a successful and growing part of the California agricultural community for more than a century, started their drying operation in 1953 and now dry and store about 150 million pounds of rice per year. Due to rising prices, electricity is now about 23 percent of their total costs, and the company realized they needed to do something to counteract this growing expense.
"The California rice industry contributes $1.8B annually and 25,000 jobs to the state's economy, and to remain competitive, it is critical to control costs," said David Gudmundson, president and CEO of GreenVolts. "Van Dyke's solar strategy is a showcase example of controlling costs and a benchmark for the state's rice industry to successfully compete in the global market."
The Van Dykes identified a four-acre, L-shaped portion of land available for the solar project. Because of its modular design and high performance, the GreenVolts system fit the available space very efficiently and is able to provide more energy in a smaller land area at a lower overall cost than the alternatives. Because of their integrated system approach, GreenVolts has been able to design for quicker, lower cost installation. Heavy equipment was not required and preassembly reduced on-site labor, which helped to contain the construction site (less space needed for staging and subassembly). As a result, the project was completed on schedule and with minimal impact to the ongoing operations at the dryer.
"Van Dyke's Rice Dryer and GreenVolts illustrate the economical and environmental benefits of applying solar technology to the agriculture industry," said California Energy Commissioner Dr. Robert Weisenmiller. "Agriculture is an absolutely vital part of California's economy, and projects such as this will not only improve efficiency and lower energy costs for businesses, but also help increase California's renewable energy portfolio and reduce greenhouse gas emissions."
During its early phases of technology development, GreenVolts was awarded a research grant by the California Energy Commission. The grant helped support the advancement of the GreenVolts system, which is now operating in over a dozen solar projects in California. The Energy Commission's Research Development and Demonstration program supports public interest research and development that helps improve the quality of life in California by bringing environmentally safe, reliable, and affordable energy services and products to the marketplace.
About GreenVolts
GreenVolts(R), Inc., founded in 2005, provides the only complete and fully integrated solar system, including modules, trackers, inverters, ISIS(R) energy management software, networking, AC and DC disconnects, and all DC wiring. With expertise across the entire system, GreenVolts provides support from early planning and continuing over the life of the project. As a result, customers experience unmatched performance, faster installation, easier operation, a new level of customer care, and the lowest cost of energy in the industry.
Featured Product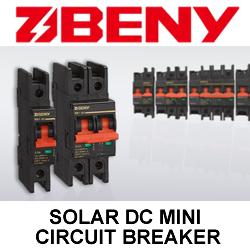 The BB1-63 modular miniature circuit-breakers can be used in solar DC circuits up to 1200 VDC (4-poles execution). Application in solar DC circuits, battery energy storage systems and UPS. Arc flash barrier design keeps solar equipment more safe and reliable. For DC circuit over-current protection.