Company's manufacturing recognized for job creation, competitiveness, standards
SANTA MONICA, Calif., July 3, 2012 – SolarWorld, the largest U.S. solar panel manufacturer for more than 35 years, was inducted Monday, July 2, 2012, into the Made in the USA Foundation's Hall of Fame. The Hall of Fame celebrates businesses that demonstrate excellence in U.S. manufacturing. The foundation recognized SolarWorld for its contribution to American job creation, commitment to high U.S. environmental and labor standards, and leadership in fighting for fair global competition in the solar industry.

In a ceremony in Santa Monica, the Made in the USA Foundation honored 20 companies, placing particular emphasis on producers of solar panels and energy-efficient vehicles and the promise that these products hold for increasing American energy independence. SolarWorld, leader of the Coalition for American Solar Manufacturing (CASM), won the award in the solar-panel category. CASM represents about 215 solar producers, installers and other industry employers of nearly 18,000 U.S. workers in promoting sustainable and domestic green-technology production and trade free of illegal foreign government interference.
"We thank the Made in the USA Foundation for recognizing the importance of keeping solar manufacturing on American soil," said Gordon Brinser, president of SolarWorld Industries America Inc., based in Hillsboro, Ore. "Pioneered in America beginning more than 120 years ago, solar manufacturing is a prize national industrial treasure. It grows domestic jobs, furthers innovation through research and development and brightens U.S. prospects for energy independence. SolarWorld proudly accepts this award on behalf of our employees, suppliers and installation partners across the United States as well as the long, multi-company U.S. industrial heritage."
SolarWorld employs about 1,000 people on its headquarters manufacturing campus in Oregon, and more than 100 more at its commercial hub in Camarillo, Calif. The largest solar producer in the Western Hemisphere, the company operates the region's only completely vertically integrated solar factory producing crystalline silicon solar technology. SolarWorld's Camarillo site has operated continuously since the late 1970s, leading the industry in advancing solar-panel technology, improving manufacturing processes and developing consumer protections.
"I have heard many times that 'nothing is made here,'" said Joel D. Joseph, chairman of the Made in the USA Foundation. "SolarWorld has been proving since 1975 that we can produce the best solar panels in the world, according to the highest standards of quality, safety and sustainability, right here at home."
Since Oct. 19, SolarWorld has led CASM in backing trade cases to hold the Chinese solar industry accountable to U.S. and international trade laws for staging a systematic state-sponsored, export drive to eliminate U.S. manufacturing competition. The U.S. Department of Commerce so far has twice affirmed the trade-case petitions by imposing both preliminary anti-subsidy and anti-dumping duties on ballooning Chinese imports that CASM contends has caused at least 12 domestic manufacturers of crystalline silicon solar to downsize or close.
About SolarWorld (www.SolarWorld.com)
SolarWorld (ISIN: DE0005108401) is a worldwide leader in offering brand-name, high-quality, crystalline silicon solar-power technology. The company's strength is its fully integrated solar production. From silicon as the raw material through wafers, cells and panels all the way to turn-key solar systems of all sizes, the group combines all stages of the solar value chain. The central business activity is selling high-quality panels into the installation and distribution trades and wafers to the international solar cell industry. Group headquarters are located in Bonn, Germany, with sales sites in Singapore, South Africa, Spain, France as well as in the U.S. state of California. The group's largest production facilities operate in Freiberg, Germany, and Hillsboro in the U.S. state of Oregon. Sustainability is the basis of the group strategy. Under the name Solar2World, the group supports community aid projects using off-grid solar-power solutions in developing countries, exemplifying sustainable economic development. Worldwide, SolarWorld employs about 3,300 people. SolarWorld AG has been quoted on the stock exchange since 1999 and today is listed on, among others, the TecDAX and ÖkoDAX as well as in the sustainability index NAI.
Featured Product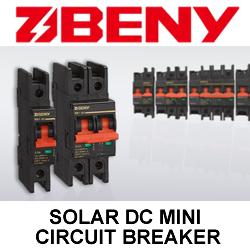 The BB1-63 modular miniature circuit-breakers can be used in solar DC circuits up to 1200 VDC (4-poles execution). Application in solar DC circuits, battery energy storage systems and UPS. Arc flash barrier design keeps solar equipment more safe and reliable. For DC circuit over-current protection.