This caucus will promote the continued development and commercialization of hydrogen and fuel cell technologies in the United States.
WASHINGTON, D.C., (July 18) - Senators Richard Blumenthal (D-Conn.), John Hoeven (R-N.D) and Chris Coons (D-Del.) hosted a U.S. Senate policy briefing as a first step in re-launching the bipartisan Senate Fuel Cell and Hydrogen Caucus. Senator Lindsey Graham (R-S.C.) is also a Caucus Chair but was unable to attend the re-launch due to several back to back member meetings.

This caucus will promote the continued development and commercialization of hydrogen and fuel cell technologies in the United States. The senators hosted the briefing to educate the public about the value of these clean energy technologies - which have helped to create 11,000 jobs in the United States -and to invite innovative ideas to advance the industry.
The United States is the world leader in fuel cell manufacturing, research, and development; however, fuel cell and hydrogen industries are becoming more popular abroad. The senators are rolling out the new bipartisan Senate Fuel Cell and Hydrogen Caucus to help demonstrate interest on Capitol Hill to maintain the United States' leadership in this area, and to identify further policy and investment solutions to support these technologies, which have already created thousands of American jobs.
The House of Representatives' Hydrogen and Fuel Cell Caucus has 40 members and is chaired by Joe Wilson (R-SC).
The re-launched Senate Fuel Cell and Hydrogen Caucus will also include Daniel Akaka (D-Hawaii), Ron Wyden (D-Ore.), Debbie Stabenow (D-Mich.), and Jon Tester (D-Mont.), all of whom offered support for this briefing and the formation of the new caucus.
The launch featured a variety of leaders in the industry. These leaders welcome the Senate caucus as it confirms the progress made by the industry and demonstrates that these forward-thinking legislators understand the importance of developing and commercializing fuel cell technologies.
Dr. Shannon Baxter-Clemmons, executive director of the South Carolina Hydrogen and Fuel Cell Alliance (SCHFCA) led the opening of the launch. "It is imperative that we unite as a nation to support hydrogen and fuel cell technology--a US clean energy technology--as part of our "all of the above" energy security strategy. This is crucial year for the industry, and we need to maintain our place as a global leader in developing alternative energy and fuels."
Fuel cells are currently saving money, preventing harmful emissions and achieving up to 90% efficiency rates for residential buildings, grocery stores, hospitals, and many well-known companies. Fuel cell technologies are powered by hydrogen and other resources readily available in the United States, which help to reduce the nation's dependence on foreign oil.
During the meeting UTC Power, a US developer and manufacturer of fuel cell technology, reported that the new One World Trade Center (previously the Freedom Tower), replacing the World Trade Center Towers destroyed on 9/11 in New York City, will use fuel cell power.
"We are incredibly proud that the New York Power Authority selected UTC Power PureCell systems to provide clean, efficient and reliable energy to the new World Trade Center and three other new towers under construction at the World Trade Center site in lower Manhattan," said Katrina Fritz Intwala, Director of Business Development and Public Relations at UTC Power. "Each of the four towers will have three PureCell systems installed in their basements. Combined, the fuel cells will provide 4.8 MW of clean power for the towers and rank as one of the largest installations of fuel cells in the world. Being a part of such an important project means a great deal to our company, and also to our employees."
Andy Marsh, CEO of Plug Power, described to the senators how fuel cell-powered forklifts are creating a return on their investment in less than two years, while saving space in the warehouse and time due to the fast refueling capability with hydrogen.
South Carolina, a recognized Top 5 Fuel Cell State, features fuel cell-forklifts throughout the state. BMW, Bridgestone-Firestone, Kimberly-Clark/GENCO, and Michelin are all companies that utilize fuel cell-forklifts in South Carolina. Nationally, there are more than 50organizations that use fuel cell-forklifts.
General Motors described to the caucus how they plan to meet a 2015 commitment to commercially launch fuel cell vehicles. Joe Guzzo of GM spoke about how his company is pursuing advanced vehicle technologies such as fuel cell electric vehicles. GM, Hyundai, Honda, Toyota, and Daimler have all made significant investments in fuel cells and have previously announced plans to widely launch fuel cell vehicles.
The event follows US Department of Energy Secretary Steven Chu's statement of support towards hydrogen and fuel cell technology; which was made public last month. Dr.Chu specifically cited two points that influenced this change of mind.
"The most important thing that changed my mind was the fact that we have now natural gas in abundance. Hydrogen is reformed from natural gas. That's point number one."
Dr. Chu then explained his second point, which focuses on the emerging technology that allows for natural gas to burn in "a little starved" partial oxygen atmosphere. This results in a pure stream of hydrogen and a pure stream of carbon dioxide. The new technology will combat the loss of energy that fuel cells previously faced. "That will change things. The pure stream most," Dr. Chu stated.
The reasons for this renewed interest are clear. In today's increasingly unstable energy marketplace, fuel cell and hydrogen technology offer a solution that is readily available in the United States, which helps reduce our dependency on foreign oil. The more that people learn about fuel cells, the more they come to understand how these systems can answer many of our toughest environmental problems. Fuel cell and hydrogen technologies are an investment in America's future and are ready for commercialization now.
The launch of the Senate Fuel Cell and Hydrogen Caucus took place at the Senate Russell Building in Washington, D.C. on July 18.
About SCHFCA
The South Carolina Hydrogen and Fuel Cell Alliance is a public-private collaboration for cooperative and coordinated utilization of resources in the state used to advance the commercialization of hydrogen and fuel cell technologies. Founded in January 2006, the alliance was created by six core institutions and organizations devoted to hydrogen and fuel cell initiatives. The Alliance is a non-profit partnership of government, business, academia and citizens working together to grow economies of local communities, the state and the nation, to enable energy security and to limit our environmental footprint with the use of hydrogen and fuel cell technologies that are cost-effective, convenient and produced with local resources.
Featured Product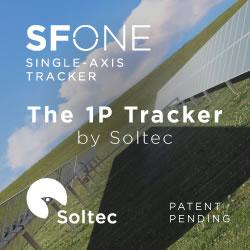 SFOne is the 1P single-axis tracker by Soltec. This tracker combines the mechanical simplicity with the extraordinary expertise of Soltec for more than 18 years. Specially designed for larger 72 an 78 cell modules, this tracker is self-powered thanks to its dedicated module, which results into a lower cost-operational power supply. The SFOne has a 5% less piles than standard competitor, what reduces a 75% the labor time.