SPI continues to develop projects across Greece
ROSEVILLE, Calif.--SPI Solar ("SPI") (SOPW:OTCBB), a leading vertically integrated photovoltaic ("PV") solar developer, announced today that it has completed construction and successfully interconnected two large-scale solar energy facility ("SEF") projects in Greece. A 2-megawatt development in Evros and a 4.4-megawatt SEF in Orestiada were completed and interconnected by July 26th. Both systems are providing power to the Greek Public Power Corporation through 20-year Power Purchase Agreements. A one-megawatt SEF remains under construction in Rhodopi and is scheduled for completion by mid-September.

"These are the first two large-scale SEFs we have completed in Greece, and they mark significant milestones for SPI," said Stephen Kircher, CEO of SPI. "As Greece continues to diversify its energy sources, we will continue to pursue additional projects across the country," Mr. Kircher concluded.
SPI has entered into a Memorandum of Understanding ("MOU") with the Taneo Fund to develop 23 megawatts of utility-scale SEFs across Greece; all of which are fully permitted and ready for construction. The MOU sets a goal for Taneo and SPI to potentially develop a total of 100 megawatts across Greece.
About SPI Solar (SOPW:OTCBB):
SPI Solar ("SPI") (Solar Power, Inc.) is a vertically integrated photovoltaic solar developer offering its own brand of high-quality, low-cost distributed generation and utility-scale solar energy facility development services. Through the Company's close relationship with LDK Solar, SPI extends the reach of its vertical integration from silicon to system. From project development, to project financing and to post-construction asset management, SPI delivers turnkey world-class photovoltaic solar energy facilities to its business, government and utility customers. For additional information visit: www.spisolar.com.
Featured Product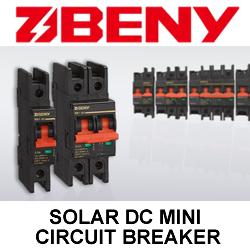 The BB1-63 modular miniature circuit-breakers can be used in solar DC circuits up to 1200 VDC (4-poles execution). Application in solar DC circuits, battery energy storage systems and UPS. Arc flash barrier design keeps solar equipment more safe and reliable. For DC circuit over-current protection.