Intertek, a global testing and certification company, will be among key industry leaders to exhibit and speak at Solar Power International. Intertek will highlight services available to solar manufacturers as they design, manufacture and certify products for national and international market access.
Intertek will feature its core service offering at SPI – the testing and certification of an entire solar system including modules, inverters, converters and other components. With an increase in the number of testing requests for balance of system components by solar companies, Intertek continues to help manufacturers move products to market faster.

Intertek will also focus on the key service offering of bankability testing, which helps solar companies validate long-term performance and reliability of PV systems to attract investors and gain subsidies from banks or government entities. As a leader in offering bankability testing, Intertek is well positioned to help solar manufacturers differentiate products, increase ROI and gain a competitive advantage.
Visit Intertek at SPI in booth 1777 and attend photovoltaic business development manager Dr. Paul Robusto's panel on Evolution in the CPV Sector on September 13 at 10:30 a.m. to learn more about Intertek's comprehensive suite of services for the solar industry.
For additional information or to arrange a time to speak with an Intertek solar expert, please contact Alyssa Chiazim at achiazim@gibbs-soell.com.
About Intertek
Intertek is a leading provider of quality and safety solutions serving a wide range of industries around the world. Through our services, we help our clients to minimize the adverse health and environmental impact of their products and processes for the benefit of society as a whole. From auditing and inspection to testing, quality assurance and certification, Intertek is dedicated to adding value to customers' products and processes, supporting their success in the global marketplace. Intertek has the expertise, resources and global reach to support its customers through its network of more than 1,000 laboratories and offices and over 30,000 people in more than 100 countries around the world. Visit www.intertek.com for more information.
Featured Product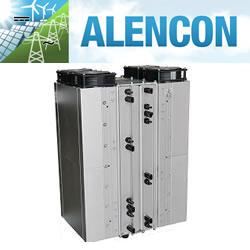 Alencon Systems is the premier manufacturer of high power, high voltage DC:DC optimizers for alternative energy applications including solar, battery energy storage, Microgrids, Fuel Cells and Electric Vehicle charging. Alencon's DC:DC converter offerings include the SPOT, BOSS and CUBE series DC:DC converters. The SPOT is a modular, uni-directional DC:DC solution ideal for solar applications. The BOSS is a modular, bi-directional unit for use with battery energy storage. The CUBE is a monolithic DC:DC converter which is available in both uni-directional and bi-directional modalities. Pictured above, is the Alencon SPOT.