Clean Energy Expo Asia, organized by Koelnmesse, hosted some 100 international exhibitors and close to 100 distinguished speakers from across the globe .
The fourth Clean Energy Expo Asia (CEEA) came to a close today, after three exciting days of intensive high-level dialog and networking. Held from 12 to 14 September 2012 at the Centara Grand & Bangkok Convention Centre at CentralWorld, Bangkok, Thailand, the annual sustainable energy and energy efficiency focused Trade Fair and Conference successfully attracted close to 2,000 clean energy industry players from close to 30 countries.

As the premier platform for industry players in the technology, services, finance and government sectors in the clean technology industry, Clean Energy Expo Asia, organized by Koelnmesse, hosted some 100 international exhibitors and close to 100 distinguished speakers from across the globe .
The event was officially opened with a message by opening keynote speaker Mr S Chander, Director General, Regional and Sustainable Development Department, Asian Development Bank (ADB), on the Asian Century scenario. According to a 2011 study by ADB, Asia could account for over half of global output by 2050. This rapid growth is expected to bring several climate change and sustainability challenges for all countries in the Asia Pacific region. In his opening keynote, Mr Chander strongly urged participants at the Clean Energy Expo Asia 2012 to seek sustainable solutions that can increase energy production while minimizing its impact on the environment.
"Asia is committed to seeking clean energy solutions and innovating to meet the rising energy needs for the region. This is clearly demonstrated by the keen enthusiasm displayed in the highly interactive Conference tracks and the robust conversations on the Trade Floor. Clean Energy Expo Asia is proud to be the premier platform to drive the clean energy agenda forward. As Asia Pacific continues to be the hotbed of sustainable energy innovations, Clean Energy Expo Asia expects to continue contributing to the future of clean energy development in the region," said Mr Michael Dreyer, Vice President, Asia Pacific, Koelnmesse.
Advancing the clean energy agenda
From solar, wind and bio energy to clean energy financing, smart grid and energy efficiency, Clean Energy Expo Asia featured focused sessions aimed at addressing various issues across the clean energy sector. Clean energy investments continued to be a hot topic of discussion, as investors shared their challenges in bringing renewable energy innovations on stream.
In the plenary on the Future of Clean Energy in Asia, panelists agreed that policymakers have to devise the right policy design that guarantees stability and safe returns on investments, in order to encourage clean energy innovations. Among others, the plenary featured solar entrepreneur Ms Wandee Khunchornyakong, Chairman and CEO, SPCG Public Company Limited; as well as well-known names in environmental advocacy including Ms Gwen Andrews, Vice President, Environmental Policies and Global Advocacy, Alstom; and Ms Christine Lins, Executive Secretary, REN 21.
In line with increased interest in Asia as a hub for bio energy, the sessions Bio Energy Initiatives and Deployment: Policy and Market Mechanisms and Unlocking the Biomass Potential: Critical Technological Advancements attracted many interested participants who were keen to hear from industry experts.
"Biofuel is an emerging industry for Asia and the discussions at both sessions made clear that there is tremendous potential in the region to leverage biofuel as an alternative energy resource especially for power plants and automobiles. The technologies, design tools, and technical know-how to implement these solutions are already in existence. From the interest shown by the session participants, we hope that more countries will embrace this technology and harness the best practices shared by industry leaders in China, India, Malaysia and Thailand," said Mr Akshat Rathee, Managing Director, Nodwin Group, who presented a session on Fuel for Thought: Pushing Bio Fuel Boundary.
Innovations for a sustainable future
Clean Energy Expo Asia greeted participants with a wide array of products and technology innovations including Thailand's first Ethanol bus by Scania, innovative solar-powered street lights by SMA (Solar) Thailand, as well as Siemens AG's hybrid plant for off-grid power supply. Designed to power any off-grid communities, Mr Torsten Wetzel, Head of Business Development Distributed Generation, Siemens AG shared with enthusiastic participants how cheaper, greener and highly available electricity can be produced through Siemens Off-Grid Power Solutions.
"Siemens presented our new off-grid power solutions as we believe the solution is ideal for Southeast Asia's developing economies. Based on the enthusiasm we saw from the audience, we are excited to see the adoption of this solution in the region in the near future," said Mr Wetzel at the end of the session.
With cost of solar power installations declining, solar innovations attracted much interest among visitors. Yingli Green Energy Holding Company, one of the world's largest PV manufacturers, highlighted their array of solar innovations for a wide variety application.
"Clean Energy Expo Asia 2012 is a fantastic platform for environmental innovators to showcase our latest offerings for clean energy projects. The Asia Pacific region is an ideal location for solar power adoption and this is reflected by the enthusiastic enquiries we received from visitors to the trade fair. We are confident that some of the connections we made at the event will be further nurtured into fruitful business partnerships for us," said Ms Angie Koh, Business Development Director, Yingli Green Energy Singapore Company Pte Ltd.
Connecting Asia to leading clean energy projects and technologies
Clean Energy Expo Asia 2012 also hosted its first Renewable Clinic to huge success. A total of 40 meetings were conducted throughout the event.
"The Renewable Clinic is a great platform that provided us and our partners with strong opportunities for embarking on new projects in the region. Apart from local companies, we have held several key meetings with project developers from Cambodia, Myanmar and Vietnam who are keen to harness our technology and expertise to launch new clean energy projects in their own countries," said Ms Taksuta Tinsuntisook, Marketing Manager, Royal Equipment Co Ltd.
Clean Energy Expo Asia's thriving annual Business Matching program also saw more than 600 meetings between international participants. Among them were hosted buyers from Hong Kong, India, Indonesia, Malaysia, Myanmar, the Philippines and Thailand, who were specially invited to the show to expand the business opportunities for exhibitors.
Ms Charlene Vee S. Tan, President, All Vision Business Enterprises Corp, who was among the hosted buyers, said, "We saw several potential partners from key players such as Phoenix Solar, Versolsolar Hangzhou Co. Ltd, Windsia Energy Industries Pte Ltd and Yingli Solar. Clean Energy Expo Asia has been helpful in providing us with the latest products and services that can help improve the quality of our delivery to customers in the future."
The next Clean Energy Expo Asia will be held from 25-27 September 2013 in Bangkok, Thailand. For more information on Clean Energy Expo Asia, please visit www.cleanenergyexpoasia.com.
Featured Product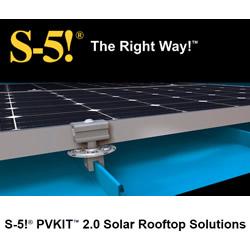 The concept of combining PV arrays with standing seam metal roofing is growing-for good reasons. Metal roofs have a life expectancy of more than 40 years. Shouldn't the mounting system last as long? With S-5! zero-penetration attachment technology and PVKIT 2.0, the solarized metal roof is the most sustainable system available -and without compromising roof warranties! PVKIT 2.0 is the also the best solution for attaching PV modules directly to any exposed fastener metal roof.