Water-engineering ministry will receive up to 100 kilowatts of SolarWorld solar panels
FRANKFURT, Germany, Sept. 25, 2012 – The parent company of SolarWorld, the largest U.S. solar manufacturer for more than 35 years, today honored founders of U.S.-based Christian nonprofit Water Missions International and the largest solar inverter manufacturer, Germany-based SMA, in the company's annual Einstein Awards ceremony here.

At an event attended by solar researchers and solar-industry leaders, SolarWorld saluted Water Missions founders Molly and George Greene III of Charleston, S.C., for their organization's use of solar power to operate water pumps in filtrating clean, safe water supplies for communities in developing economies. The Greenes devote their lives to voluntary leadership of an organization that employs 150 people in nine countries to provide clean water supplies and educational and community support for their use. An estimated 1.2 billion people, especially children under 5, suffer – and die – from water-borne parasites and disease. As few as four solar panels can power a pump to supply water to up to 5,000 people.
SolarWorld AG Chairman and CEO Frank Asbeck also announced that the company would donate up to 100 kilowatts of power to Water Missions. In the eight years of SolarWorld's Einstein Awards program, the Greenes are the first recipients from America.
Also honored with an Einstein Award for outstanding service rendered in the field of solar energy was Günther Cramer, co-founder of SMA. Cramer and three partners founded SMA Regelsysteme GmbH while working at the University of Kassel in 1981. The company was renamed SMA Technology AG in 2004. Over 30 years, Cramer transformed SMA into a company employing 5,500 people. Today, SMA is the technology and global market leader in the manufacture of solar inverters, a device that converts direct electrical current to alternating current.
Finally, the Junior Einstein Award was presented to physicist Bianca Lim from the Institute for Solar Energy Research in Hameln, Germany. The 30-year-old won the recognition for her work on boron-silicon compounds in silicon solar cells. The compounds are an important remaining limitation on the rising energy-generation efficiency of solar photovoltaic cells. The phenomenon has been recognized for several years, but the causes have not been fully understood.
"SolarWorld salutes Water Missions and SMA for their work leveraging the amazing power of solar in two fundamentally important ways," said Kevin Kilkelly, president of SolarWorld Americas, the commercial arm of SolarWorld in the Americas. "We look forward to witnessing the continued advances of these trail-blazing organizations. Like Water Missions, SMA also is a leader in its field in the Americas. In that light, this year's Einstein Awards reflect the rising recognition of solar's potential not only in Europe but also in the American market."
About SolarWorld (www.SolarWorld.com)
SolarWorld (ISIN: DE0005108401) is a worldwide leader in offering brand-name, high-quality, crystalline silicon solar-power technology. The company's strength is its fully integrated solar production. From silicon as the raw material through wafers, cells and panels all the way to turn-key solar systems of all sizes, the group combines all stages of the solar value chain. The central business activity is selling high-quality panels into the installation and distribution trades and wafers to the international solar cell industry. Group headquarters are located in Bonn, Germany, with sales sites in Singapore, South Africa, Spain, France as well as in the U.S. state of California. The group's largest production facilities operate in Freiberg, Germany, and Hillsboro in the U.S. state of Oregon. Sustainability is the basis of the group strategy. Under the name Solar2World, the group supports community aid projects using off-grid solar-power solutions in developing countries, exemplifying sustainable economic development. Worldwide, SolarWorld employs about 3,000 people. SolarWorld AG has been quoted on the stock exchange since 1999 and today is listed on, among others, the TecDAX and ÖkoDAX as well as in the sustainability index NAI.
Featured Product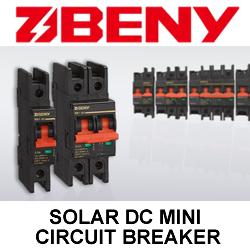 The BB1-63 modular miniature circuit-breakers can be used in solar DC circuits up to 1200 VDC (4-poles execution). Application in solar DC circuits, battery energy storage systems and UPS. Arc flash barrier design keeps solar equipment more safe and reliable. For DC circuit over-current protection.