Shifts in demand for different types of inverter has also had an impact on inverter pricing.
Wellingborough, UK (11th October 2012) – Following a decline in the third quarter of 2012, global photovoltaic (PV) inverter shipments are forecast to reach a record of 8.6 gigawatts (GW), according to the latest report from IMS Research (recently acquired by IHS Inc. (NYSE: IHS)). An 18 percent year-on-year rise in global shipments will make the fourth quarter of 2012 the largest final quarter ever recorded. However, the report predicts far more modest revenue growth due to increasing price pressure for PV inverters.

According to the recently released quarterly update to IMS Research's World Market for PV Inverters report, double-digit sequential growth will be largely driven by Asian countries such as China, India and Japan, and Asia will account for almost 50 percent of global shipments in the fourth quarter. In contrast, shipments to mature markets in Europe, such as Italy and Germany, are forecast to decline by 20 percent in the fourth quarter due to aggressive FiT cuts.
IMS Research's analysis of shipment data collected from leading suppliers found that the first half of 2012 began strongly with over 16 GW of global shipments. However, despite strong shipments, the average price of PV inverters had fallen by almost 20 percent year-on-year in the second quarter of 2012. "Following huge amounts of price pressure on other PV components such as modules, PV inverter prices have also come under fire," explained Cormac Gilligan, PV market analyst at IMS Research. "Highly competitive market conditions, falling incentives and weakening demand in key markets has resulted in prices declining by an average of 5 percent per quarter for the last year."
Shifts in demand for different types of inverter has also had an impact on inverter pricing. "Shipments of inverters over 500 kW in size are forecast to continue to grow substantially in the second half of the year as high demand for utility scale installations is forecast in markets such as the U.S., India and China," Gilligan explained. "This change in market share towards larger inverters with a lower price per watt has also been a factor in the reduction of average PV inverter prices."
Looking further forward, in 2013, in shipment terms, China is forecast to surpass Germany as the largest market for PV inverters as FiT amendments take full effect on the German market and China continues to rapidly deploy utility scale systems. The U.S. is predicted to become the third biggest market for PV inverters highlighting the global shift from the mature European markets to the fast growing Americas and Asia regions.
IMS Research's annual analysis of the global PV inverter industry which relies on real sales and shipment data from more than 80 suppliers was published in July 2012, for more details, please contact Cormac.Gilligan@imsresearch.com
About IHS Inc. (www.ihs.com)
IHS (NYSE: IHS) is the leading source of information, insight and analytics in critical areas that shape today's business landscape. Businesses and governments in more than 165 countries around the globe rely on the comprehensive content, expert independent analysis and flexible delivery methods of IHS to make high-impact decisions and develop strategies with speed and confidence. IHS has been in business since 1959 and became a publicly traded company on the New York Stock Exchange in 2005. Headquartered in Englewood, Colorado, USA, IHS employs more than 6,000 people in more than 30 countries around the world.
About IMS Research (www.imsresearch.com)
IMS Research, recently acquired by IHS (NYSE: IHS), is a leading supplier of market research and consultancy to over 2500 clients worldwide, including most of the world's largest technology companies. Established in the UK in 1989, IMS Research now has dedicated analyst teams focused on the factory automation, automotive, communications, computer, consumer, display, financial & ID, LED & lighting, medical, power & energy, solar PV, smart grid and security markets. Currently publishing over 350 different syndicated report titles each year, these in-depth publications are used by major electronics and industrial companies to assess market trends, solve marketing problems, and improve the efficiency of their businesses.
Featured Product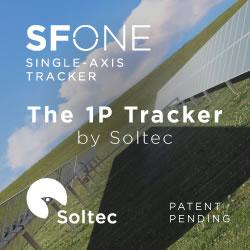 SFOne is the 1P single-axis tracker by Soltec. This tracker combines the mechanical simplicity with the extraordinary expertise of Soltec for more than 18 years. Specially designed for larger 72 an 78 cell modules, this tracker is self-powered thanks to its dedicated module, which results into a lower cost-operational power supply. The SFOne has a 5% less piles than standard competitor, what reduces a 75% the labor time.