From 1 to 4 November, the company will participate in the 7th Energy-Photovoltaic International Exhibition being held in Athens (Stand 3D20/D20A).
26 October 2012. PROINSO has supplied 432 solar inverters to four new solar PV plants that have been recently connected in northern Greece. With a total power of 7.6MW, the new plants are expected to generate 11,000MWh a year, or the approximate annual energy consumption of 2,500 households.

These four plants are located in the industrial areas of Xanthi (3 MW), Kavala (3MW), Drama (1MW) and Kastoria (0.56MW). The 432 three-phase inverters delivered by PROINSO are Sunny Tripower 17000TL devices, manufactured by the multinational firm SMA.
This recent sale in Greece was made to Arxikon, the company that developed the four projects. This way, PROINSO strengthens its position in the Greek solar PV market, where it set up a branch in 2009 and where it has as many as 184 Qualified Installers in its International Network.
Also, the multinational company announced it would take part in the 7th International Exhibition Energy-Photovoltaic (Stand 3D20/D20A), being held in Athens from 1 to 4 November 2012.
PROINSO specialises in the supply of PV modules, solar kits, inverters, structures and solar trackers, solar solutions for urban applications in public areas, vehicle recharging stations, self-consumption installations, stand-alone PV power systems and monitoring systems.
ABOUT PROINSO www.proinso.net
As at the end of 2011, PROINSO had delivered a total 1,115MW around the world, a record high that turns it into one of the world's leaders in the sector, and the International Network of Qualified Installers, currently comprising more than 2,200 members, played a key role in this achievement.
With international markets accounting for 88% sales, PROINSO has offices in Spain, Germany, Greece, Italy, USA, Great Britain, France, Canada, China and the Czech Republic. Recently, the company set up branches in Australia, India and Thailand to strengthen its presence in South-East Asia.//
Featured Product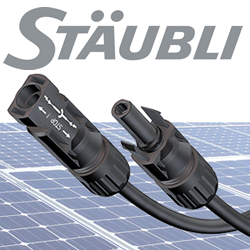 ​Stäubli Electrical Connectors are used on more than 300 GW, over 50% of the PV capacity worldwide. The MC4 family of UL and TUV listed products include connectors, in-line fuses, branch connectors, cable assembly and more.