Total of 7.3MW of solar power now installed in Kunitomi, accounting for nearly 30% of town's residential needs
Tokyo, October 30, 2012 Showa Shell Sekiyu and Solar Frontier announced today that they will cooperate in a new solar power generation project to be installed on top of the world's largest CIS thin-film solar module production facility. Construction of the 2-megawatt (MW) power plant is scheduled to be finished within this year. Once completed, there will be 7.3MW of solar power capacity installed or planned for Kunitomi town, equivalent to approximately 30% of the town's residential power needs. This will be Showa Shell Sekiyu's second commercial solar power plant following the "Niigata Yukigunigata Megasolar" power plant in Niigata Prefecture.

The new project will add to an existing 2MW power plant of Solar Frontier modules on building 2 that supplies power directly to the Kunitomi plant. The power generated by the new plant's Solar Frontier CIS thin-film solar modules on building 3 will be sold to Kyushu Electric Power Company. Solar Frontier, which owns the Kunitomi Plant, will lease the rooftop to Showa Shell Sekiyu.
Solar Frontier's flagship Kunitomi Plant commenced commercial production of CIS thin-film solar modules in February 2011, and all lines at the plant were operational by July of that year. The plant has a 900MW annual production capacity and is Japan's largest solar module production plant as well as the world's largest plant producing CIS thin-film solar modules. Currently, the CIS thin-film solar modules produced at Kunitomi have a conversion efficiency that exceeds 13%, and the amount of power generated (kWh) per installed capacity (kW) exceeds that of other solar modules. Showa Shell Sekiyu and Solar Frontier intend to contribute even further to the expansion of Japan's energy industry and local production and consumption using environmentally-friendly CIS thin-film solar modules made in Japan.
About Solar Frontier
Solar Frontier K.K., a 100% subsidiary of Showa Shell Sekiyu K.K. (TYO:5002) ("Solar Frontier"), has a mission to create the most economical, ecological solar energy solutions on Earth. Building on a legacy of work in solar energy since the 1970s, Solar Frontier today develops and manufactures CIS (denoting copper, indium, selenium) thin-film solar modules for customers in all sectors around the world. Solar Frontier's gigawatt-scale production facilities in Miyazaki, Japan, integrate compelling economical and ecological advantages into every module: from lower energy requirements in manufacturing to the higher overall output (kWh) of CIS in real operating conditions. Solar Frontier is headquartered in Tokyo, with offices in Europe, the U.S.A., and the Middle East. Visit www.solar-frontier.com for more information.
Showa Shell Sekiyu K.K.
Showa Shell Sekiyu K.K. is listed on the Tokyo Stock Exchange and has roots dating back more than 100 years in the downstream energy business.
Featured Product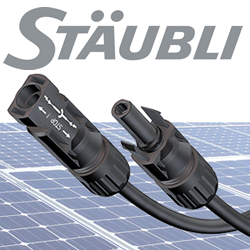 ​Stäubli Electrical Connectors are used on more than 300 GW, over 50% of the PV capacity worldwide. The MC4 family of UL and TUV listed products include connectors, in-line fuses, branch connectors, cable assembly and more.