Conergy Builds 900 kW Stand-Alone PV Systems for Madhya Pradesh Forest Department
Hamburg / Bangalore, 1 November 2012 – Conergy once again strengthens its footprint in India. As one of the market leaders who pioneered off-grid installations in India, the solar solution and service provider has completed a 900 kilowatt peak stand-alone project for the Madhya Pradesh Forest Department (MPFD). The MPFD is the forest service agency under the Madhya Pradesh government responsible for the protection and conservation of the forest's natural resources. They oversee 95,000 square kilometres of forest land and supervise 9 national parks and 25 wildlife sanctuaries including the nature preserves of India's prized Bengal tigers. As Madhya Pradesh harbours 19% of India's tiger population and 10% of the world's tiger population, the MPFD has a mandate to protect and ensure the maintenance of viable populations of the Bengal tigers.

"Our forests and national parks are our most precious resources and it is our utmost duty to preserve them as the home of the Bengal tigers", said Mr. Sartaj Singh, Honorable Minister for Forest, Government of Madhya Pradesh. "Clean and emission-free solar power is therefore just what we needed to prevent our ranger offices from facing severe power outages and to meet the demand for electricity with ecologically sound measures."
For this reason, the MPFD has engaged Conergy to supply their ranger offices with clean and environmentally friendly energy. The project consists of 755 one kilowatt and 29 five kilowatt stand-alone photovoltaic systems which were erected to enable communications and internet connectivity in the field offices to its Bhopal headquarters.
"Most of our field offices are located in remote forest areas and some of them have no access to a distributed power grid. For these offices, off-grid systems have become the lifelines that power the computers and radios used by our rangers. With these SPV systems, the MPFD is able to continue its legacy of protecting our forests not only from poachers but also from the harmful effects caused by greenhouse gas emissions," according to Mr. Anil Oberoi – Principal Chief Conservator of Forest (IT), Government of Madhya Pradesh.
As the main contractor, Conergy has not only supplied the off-grid crystalline modules for this project, but was also engaged in the design, procurement, installation and commissioning of these stand-alone photovoltaic systems. Moreover, the solution and service provider will continue to be involved in its maintenance. These power stations will generate as much as 1,360 megawatt hours of clean energy every year and will save 777 tons of CO2 emissions annually.
"Energy is a precious resource in India," said Steffen Hesche, President of Conergy India. "In late July, the country faced the largest power grid collapse in the last eleven years with more than 600 million people affected – half of the subcontinent's population. To avert power disruptions, many enterprises have turned to diesel generators which are expensive and come with huge environmental and health costs. But advances in technology have since made emission-free off-grid photovoltaic systems a viable alternative. With these stand-alone systems, the Madhya Pradesh Forest Department has protected itself against power outages while contributing to the preservation of Bengal tigers' natural habitat."
About Conergy
Conergy delivers solar energy systems from a single source. As a system supplier, Conergy offers all components for a solar installation as well as all related services.
With its portfolio of modules, inverters and mounting systems, the solar expert creates Conergy System Technology, which is efficient solar energy systems for private or commercial rooftops, as well as for multi-Megawatt Parks.
Conergy System Services deliver a "Worry-Free Package" for Conergy solar installations – from "A" for architectural planning to "Y" for yield insurance and "Z" for zero trouble. Conergy's experts not only install on-site turn-key solar projects, but they also manage the planning and financing, project implementation, system monitoring, operation and on-going maintenance of the project for maximum performance. With this comprehensive technology and service package, Conergy offers yield insurance for its installations.
Featured Product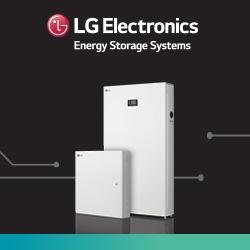 Meet LG Electronics Home 8 Energy Storage System (ESS), a whole home battery backup solution built with installers and their homeowner customers in mind. The ready-to-deploy Home 8 features just one SKU and a modular assembly for fast installation. It can be AC-coupled or solar-powered and is engineered with a grid-connected inverter, four battery modules, and a Smart Energy Box featuring a 7'' LCD touchscreen with commissioning wizard for easy setup. Each Home 8 unit can store up to 14.4 kWh of usable power, helping homeowners gain pure independence from the grid. Plus, installers can connect up to four units, bringing customers up to 57.6 kWh of total backup power-all easily managed and monitored through intuitive mobile apps.