Goldman Sachs and Credit Suisse arranged debt financing ----- Plant to come online in late 2014 when ERCOT has projected a need for reserve power ----- One of the nation's first "quick start" plants will help support intermittent renewable generation ----- Will contribute up to $1.7 billion in economic development and create 700-800 construction jobs ----- Bechtel and Siemens turn-key construction consortium to build plant
DALLAS — November 8, 2012 — Panda Power Funds was joined today by officials from across the Lone Star State to break ground on the company's 758-megawatt natural gas-fueled, combined-cycle power plant in Sherman, Texas. When complete, the facility will provide much needed electricity for approximately 750,000 homes in the North Texas region.

"For the second time in four months, our team has stepped up to the plate and swung for the bleachers," said Todd Carter, president of Panda Power Funds. "And both times the Panda team has knocked the ball out of the park. I cannot be more proud of our firm, or our investors, who have taken the Panda Sherman Generating Station off the drawing board and, beginning today, will see it rise out of the ground."
Financing and Added Capacity Seen as Important Step Forward
The Sherman financing marks only the second time in six years that a capital-intensive, greenfield construction project has been financed with a term loan. The other financing was for Panda's 758-MW Temple, Texas generating station which occurred in July of this year. Goldman Sachs and Credit Suisse arranged the senior debt financing for the plant. Ares Capital was the documentation agent. Panda Power Funds is supplying equity for the Sherman project along with several other institutional co-investors.
The Sherman plant is also seen as an important step forward for the State of Texas which is in need of additional electric capacity. The latest forecast issued by the state's grid operator, ERCOT, shows reserves declining to 9.8% in 2014 and 6.9% in 2015 — below the 13.75% reserve requirement necessary for grid reliability. The plant is scheduled to enter commercial operation by the end of 2014.
Uniquely Designed for Texas Electricity Market
In addition, the state is in need of generation that can quickly ramp up to meet power demand. Texas currently leads the country in wind power generation with more than 22% of the nation's installed capacity. According to state records, wind's share of electric generation in the region vaulted from 2.9% in 2007 to 10.2% during the first six months of 2012. As a result, Texas' electrical grid has been subject to increased volatility in recent years as wind power can suddenly drop offline when the wind stops blowing. A natural gas power plant must then step in to quickly make up for the lost power.
To meet this need, Panda designed the Sherman generating station as a "quick-start" power plant. Power generation is expected to commence within 10 minutes of startup, reaching full gas turbine power production within approximately 30 minutes.
By closing the generating gap caused by intermittent renewable energy, the Panda Sherman plant is able to help support both the integrity of the state's electric grid and the development of additional renewable generation in Texas. The quick-start gas turbines will reduce total startup emissions as well.
Accordingly, the state-of-the-art Panda Sherman plant will utilize the latest, most advanced emissions-control technology, making it one of the cleanest, most efficient natural gas-fueled power plants in the nation. Carbon Monoxide (CO) emissions will be controlled to less than 10 parts-per-million, and Nitrogen Oxide (NOx) emissions to less than 2.0 ppm — among the lowest of any natural gas power plant in the United States.
Additionally, the plant has been designed with gas turbines which operate at a higher power output during high temperature conditions. This capability is ideal for the ERCOT market as recent hot summers have put an increased strain on the state's power grid, which is challenged with one of the fastest growing populations in the country.
The Panda Sherman generation facility will be built by a turn-key construction consortium of Bechtel and Siemens Energy Inc. Bechtel is the largest construction and engineering company in the United States and one of the largest in the world. Siemens is one of the world's largest suppliers of turbine technology. As a part of the contract, Siemens will provide the power island package including the natural gas turbines, steam turbine, waste heat recovery boilers, and instrument and control systems. Bechtel will be responsible for the engineering and procurement for the balance of the plant, and the installation, construction and commissioning of the facility.
Significant Economic Impact
According to an economic analysis conducted by Impact Data Source of Austin, Texas, the plant is expected to contribute up to $1.7 billion into the area's economy during construction and the plant's first 10 years of operation. An estimated 700-800 personnel will be employed to construct the plant at peak construction. During operations, the generating station will create an estimated 25 skilled jobs to operate the facility and 45 indirect jobs within the community to support the plant.
The plant will be located at Progress Industrial Park 3 in South Sherman. The turbines and generators will be manufactured at Siemens' factory in Charlotte, North Carolina.
About Panda Power Funds, LP
Founded in 2010, Panda Power Funds is a private equity firm located in Dallas, Texas, which has the ability to internally source and develop, acquire, invest in, and operate large-scale, natural gas-fueled power generation facilities. The firm has a 758-megawatt combined-cycle power plant under construction in Temple, Texas. The company recently built a utility-scale, 20-megawatt solar farm in Pilesgrove, New Jersey — one of the largest solar facilities in the northeast United States. Additional information on Panda Power Funds can be found at www.pandafunds.com.
Panda Power Funds Media Contact:
Bill Pentak
(972) 361-2000
bpentak@pandafunds.com
About Bechtel:
Bechtel is among the most respected engineering, project management, and construction companies in the world. We stand apart for our ability to get the job done right—no matter how big, how complex or how remote. Bechtel operates through five global business units that specialize in civil infrastructure; power generation, communications and transmission; mining and metals; oil, gas and chemicals; and government services.
Since its founding in 1898, Bechtel has worked on more than 22,000 projects in 140 countries on all seven continents. Today, our 53,000 employees team with customers, partners and suppliers on diverse projects in nearly 50 countries. www.bechtel.com.
Bechtel Media Contact:
Sonia Taylor
301.228.7809
Staylor4@bechtel.com
About The Siemens Energy Sector
The Siemens Energy Sector is the world's leading supplier of a complete spectrum of products, services and solutions for power generation in thermal power plants and using renewables, power transmission in grids and for the extraction, processing and transport of oil and gas. In fiscal 2011 (ended September 30), the Energy Sector had revenues of EUR24.9 billion and received new orders totaling approximately EUR31.8 billion and posted a profit of EUR3.9 billion. On October 1, 2011, the Energy Sector had a work force of more than 82,000. Further information is available at: www.siemens.com/energy.
Siemens Media Contact:
Christian Stuart Wilson
Siemens AG
Tel: +49 9131 18-4974
christian_stuart.wilson@siemens.com
Featured Product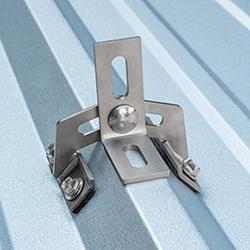 Explore new lines of income for your solar installation business with QuickBOLT's Stone Coated Steel roof mounts designed in partnership with metal roof manufacturers themselves. These SCS roof mounts work on all metal tile profiles and will help you bring in money you're missing out on. By not driving into the roofing material, QuickBOLT's Stone Coated Steel roof hooks maintain the integrity of the roof. Install with ease and confidence knowing your roof is protected against the harsh elements that these hooks are designed for.