Turbine Production Outpacing Projected Power Output----- Project Installed and Commissioned Ahead of Schedule----- GE Operating and Maintaining the 17, 1.5-77 Turbine Fleet
BANGALORE, INDIA—November 15, 2012—Powered by 17 GE (NYSE: GE) 1.5-77 wind turbines, Bhoruka Power Corporation's new wind farm at Yelisurur in the southern state of Karnataka, India, is commissioned and in commercial operation. The project, which has a capacity of 25.5 megawatts of sustainable, clean energy and supports the Karnataka government's renewable energy program, demonstrates GE's commitment to serving India's growing energy demand through wind energy.

"GE is a logical partner for us as we develop wind farms across India," said S. Chandrasekhar, managing director of Bhoruka Power. "Their global execution and technology expertise, combined with their strong India team, were key factors when selecting them for this project."
Assembled at GE's multi-modal manufacturing facility in Pune, the wind turbines for the Yelisurur project are engineered to deliver favorable results in India's low wind speed regimes. GE is setting up the Pune facility to develop localized products and solutions suited to Indian customers across GE's various businesses throughout the country.
The wind farm commissioning was completed in August 2012 with GE achieving its installation and commissioning target ahead of schedule. The project commissioning was announced today at a joint GE-Bhoruka event in Bangalore.
The Bhoruka project, located 70 kilometers from Hubli, is the launch site in India for GE's 1.5-77 turbines. The units installed at Yelisurur have been generating electricity consistently since their commissioning, outpacing the projected power output. In addition to supplying the wind turbines, GE operates and maintains the wind farm.
"India is an important region for GE's renewable energy business," said Hari Menon, general manager of India for GE's renewable energy business. "We are making significant investment in India specific to clean energy technology as we help enable developers to harness energy from local low wind regimes and generate electricity for India's growing energy demand."
About GE
GE (NYSE: GE) works on things that matter. The best people and the best technologies taking on the toughest challenges. Finding solutions in energy, health and home, transportation and finance. Building, powering, moving and curing the world. Not just imagining. Doing. GE works. For more information, visit the company's website at www.ge.com.
About GE Power & Water
GE Power & Water provides customers with a broad array of power generation, energy delivery and water process technologies to solve their challenges locally. Power & Water works in all areas of the energy industry including renewable resources such as wind and solar; biogas and alternative fuels; and coal, oil, natural gas and nuclear energy. The business also develops advanced technologies to help solve the world's most complex challenges related to water availability and quality. Numerous products are qualified under ecomagination, GE's commitment to providing innovative solutions that maximize resources, drive efficiencies and help make the world work better. Power & Water's seven business units include Aeroderivative Gas Turbines; Gas Engines; Nuclear Energy; Power Generation Services; Renewable Energy; Thermal Products and Water & Process Technologies. Headquartered in Schenectady, N.Y., Power & Water is GE's largest industrial business.
Follow GE Power & Water and GE Renewable Energy on Twitter @GE_PowerWater and @GErenewables.
Featured Product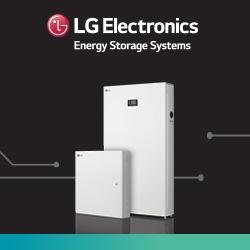 Meet LG Electronics Home 8 Energy Storage System (ESS), a whole home battery backup solution built with installers and their homeowner customers in mind. The ready-to-deploy Home 8 features just one SKU and a modular assembly for fast installation. It can be AC-coupled or solar-powered and is engineered with a grid-connected inverter, four battery modules, and a Smart Energy Box featuring a 7'' LCD touchscreen with commissioning wizard for easy setup. Each Home 8 unit can store up to 14.4 kWh of usable power, helping homeowners gain pure independence from the grid. Plus, installers can connect up to four units, bringing customers up to 57.6 kWh of total backup power-all easily managed and monitored through intuitive mobile apps.