The two-day large-scale power plant conference continued discussion of local, national, tribal and emerging PV markets.
BERLIN--Solarpraxis AG, one of the leading organizers of conferences in the renewable energy sector opened its fourth PV Power Plants conference yesterday with remarks from Mayor Stanton (City of Phoenix), Tracey LeBeau (DOE) and Tom Price (CleanPath). The morning session quickly touched on the challenges and shakeout the industry is facing and went straight into the first panel discussion titled, "Markets and Development," where the 20MW sweet spot was first mentioned. The magic number of 20MW proved to be a recurring one through the course of the day; however, the same did not apply to projects in emerging markets outside the North American border. During the networking break, IHS analyst Wade Shafer pointed out that geographic dispersion and the local complexity of emerging markets often presents challenges for solar development. Such challenges and opportunities are examined in depth in the recent release of the IHS Emerging Energy Research report.

The development of PV projects on tribal lands was another topic of yesterday's event. Tracey LeBeau set the tone by claiming, "the stage is set." Tribal lands are ready for proper transmission and DOD project collaboration. Despite the complexities of this niche field, experts such as Greg Watkins of TAWA Power were able to identify some of the specific drivers that will not only generate a larger PV market on tribal lands but also a larger market in Arizona altogether, which he did in a local Arizona interview.
Today, Day Two, is set to shed more light on the future of large-scale projects considering the aspects of bankability, plant operation, solar as an asset class, energy storage, data management, inverters, and project restructuring. Two additional Learning Excursions from Solar Land Partners and Martifer will conclude the conference.
About Solarpraxis AG: Solarpraxis AG is one of the leading knowledge service providers in the renewable energy sector. The Berlin-based company provides clients with expertise and professional services in the fields of engineering, conference organization and publishing. Its B2B magazines include pv magazine and photovoltaik.
Featured Product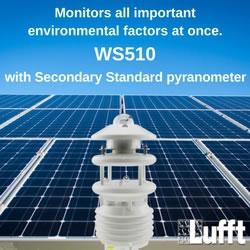 Professional weather sensors form the heart of large solar plants supporting their operation and performance. Lufft was the first manufacturer to combine several sensors in one housing, bringing the largest multiparameter weather sensor family with 19 members into being. Many of them are well-suited for solar site assessment and continuous monitoring. The most commonly used one is the WS600 delivering data on temperature, air pressure, wind, relative humidity and precipitation. Through its open protocol, it can easily be attached to radiation sensors e.g. from Kipp&Zonen. Other models have an integrated Silicon, Second Class or Secondary Standard radiation sensor.