With the power supply designed at better than 94% efficiency, less energy is wasted within the server, and less energy is consumed in the overall cooling infrastructure.
CAMARILLO, Calif., Dec. 6, 2012 -- Power-One, Inc.

(Nasdaq:PWER), a leading provider of renewable energy and
energy-efficient power conversion and power management solutions, has
released 450W and 700W High Efficiency Power Supply/Battery Back-up
units for use in next generation, high efficiency servers and data
centers. The Power-One power supplies, SPAFCBK-02G (450W) and
SPAFCBK-03G (700W), have been designed based on the Open Compute
Project specifications.
The power supplies combine a 450W or 700W Platinum Efficiency rated
AC-DC power supply with a 48Vdc battery back-up circuit, all in one
compact design. Both versions are highly efficient (over 94%
efficiency) and the power supply has been certified to 80-Plus Platinum
level efficiency. They operate from a 277Vac input voltage source which
allows the server to be powered directly from one-phase of the high
voltage 3-phase input power distribution network. Designing the power
supply for 277Vac per the Open Compute Project specifications
eliminates an expensive site transformer, and is critical to the goal
of increasing the power efficiency and reducing the overall carbon
footprint of the data center.
With the power supply designed at better than 94% efficiency, less
energy is wasted within the server, and less energy is consumed in the
overall cooling infrastructure. The integrated 48V battery back-up
circuit eliminates the need for inefficient UPS systems and allows for
a localized, scalable power back-up infrastructure.
"This was a very technically challenging product
due to the high efficiency target and the complexity of the power supply/battery
back-up design. The power supply is a crucial building block for the
next generation of highly efficient servers and data centers. Power-One
was the first in the industry to release such a product and we have
followed that lead with these latest power supply offerings," said
Helio Sakaya, Vice President of Marketing and Product Management for
Power-One.
If you are interested in details of this power supply, pricing
information or any of Power-One's industry leading high efficiency
designs, please contact Charlie Swiontek at
charlie.swiontek@power-one.com.
About Power-One
Power-One designs and manufactures energy-efficient power conversion
and power management solutions for renewable energy, routers, data
storage and servers, wireless communications, optical networking,
medical diagnostics, military, railway controls, semiconductor test
equipment and custom applications. Power-One, with headquarters in
Camarillo, CA, has global sales offices, manufacturing and R&D
operations in Asia, Europe and the Americas. Power-One is traded on
NASDAQ under the ticker symbol PWER. For more information, please visit
www.Power-One.com.
Power-One products are not designed, intended for use in, or authorized
for use as critical components in life support systems, equipment used
in hazardous environments, or nuclear control systems without the
express written consent of the respective divisional president of
Power-One, Inc. The appearance of products, including safety agency
certifications pictured on labels, may change depending on the date
manufactured. Specifications are subject to change without notice.
Featured Product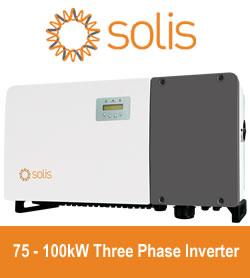 Solis75kW - 100kW series high-power string inverters are widely used in industrial and commercial rooftops. Solis's new three-phase string inverter is the first choice for industrial and commercial photovoltaics. 75-100kW three phase series string inverter have Maximum 28 strings input, support "Y" type connection in DC side. Maximum string input current 13A, support bifacial modules access.Supports anti-PID function to improve system efficiency.