By combining the two international organisations, the new company will be one of the world's leading independent technical service providers with state-of-the-art technological expertise and strong capabilities for innovation.
Hamburg/Oslo, 20. December 2012: An agreement has been signed to merge DNV and GL. The new entity will be called DNV GL Group. It will be one of the world's leading ship classification societies and risk experts in the oil and gas, renewable energy and power sectors, and among the global top three within management system certification.

"The merger rests on a strong strategic rationale, and responds to challenges of increased globalisation, rapid technological change and the need for sustainable development. Our customers will benefit from an increased service offering and global competence base as well as one of the densest networks," says DNV's Group CEO, Henrik O. Madsen, who will be the CEO of the combined new company. "The merger with DNV supports our long-term goal of being recognized as one of the most respected technical assurance and advisory companies in the world", adds GL Group CEO, Erik van der Noordaa.
By combining the two international organisations, the new company will be one of the world's leading independent technical service providers with state-of-the-art technological expertise and strong capabilities for innovation. With more than 17.000 employees and an extensive global network of offices, DNV GL Group is positioned to meet increased international competition and even better serve the needs of the customers.
The DNV Foundation will hold 63.5 %, while GL's owner Mayfair SE will hold 36.5 % of the shares. The new company, with a combined turnover of some EUR 2.5 billion, will be headquartered and registered in Norway.
"We see this as a good strategic match. The two companies have a common set of values and complementary strengths. Both have strong brands and solid market positions as well as a reputation for high quality and strong integrity. There were negotiations between DNV and GL both in 1999/2000 and in 2006 about closer cooperation. I am very pleased that timing now seems to be right," says Leif-Arne LangÝy, the Chairman of DNV's Board of Directors.
"DNV is the partner of choice for GL. Besides DNV's clear commitment to Hamburg our decision for this partnership is based on the complementary fit of DNV and GL as well as the joint ambition for innovation and quality of both companies. As a long-term oriented shareholder we consider this partnership to be the continuation of our successful investment in Germanischer Lloyd," says Guenter Herz, Chairman of Mayfair SE.
DNV GL Group will strengthen its foothold in several areas of expertise, including the maritime segment and across the entire oil & gas value chains. The Group will be one of the global leaders in pipeline verification and asset integrity services as well as in renewable energy certification and advisory services. Moreover, it will be a strong player within power transmission and distribution as well as testing and certification services. To enhance its service offering the DNV GL Group will strengthen its focus on R&D and innovation.
DNV GL Group will operate in the business segments Maritime, Oil & Gas, Energy and Business Assurance. Its global headquarters will be at HÝvik outside of Oslo.
The maritime business unit will be headquartered in Hamburg, Germany, while maintaining its commitment to the Norwegian maritime cluster. Oil & Gas will be headquartered at HÝvik, Norway, while Energy will be headquartered in Arnhem, the Netherlands and Business Assurance in Milan, Italy. DNV GL Group will be organised as a Norwegian limited company (AS). The transaction requires approval from competition authorities.
About DNV
DNV is a global provider of risk management services with the purpose of safeguarding life, property and the environment. Organised as an independent, autonomous foundation, DNV balances the needs of business and society, based on its independence and integrity. With its vision of creating a global impact for a safe and sustainable future for its customers and, ultimately, society at large, DNV serves a range of high-risk industries through it three companies: DNV Maritime, Oil & Gas, DNV KEMA Energy & Sustainability and DNV Business Assurance.
Established in 1864, the company has a global presence with a network of 300 offices in 100 countries, and is headquartered in Oslo, Norway. Its prime assets are the knowledge and expertise of its 10,000 employees from more than 80 nations. Recognised as a highly respected third party providing trust and confidence for its customers' stakeholders, DNV has been authorised by governments and national authorities to provide services in countries worldwide.
About GL Group
GL provides classification, verification and engineering consulting services to the maritime, renewables and oil & gas industries. The group has offices in more than 80 countries and operates more than 200 stations worldwide.
GL is an important player in the maritime, oil & gas, and renewable energy sectors. Since its foundation as a classification society in 1867, it has built up global delivery capabilities in each of its three business segments with a comprehensive service set in technical assurance and consulting.
Since 2007 GL has embarked on a transformation of its business by growing through acquisitions. Each acquisition was chosen either to build additional capabilities or to enhance GL's ability to deliver its services on a consistent basis globally.
About Mayfair SE
Mayfair SE is the family holding of the former Tchibo shareholder Guenter Herz and Daniela Herz-Schoeckel. Guenter Herz was the CEO of Tchibo Holding AG until 2001. Since its foundation Mayfair acquired major shareholdings in Puma SE, Vapiano SE and Germanischer Lloyd SE. CMS Hasche Sigle provided legal advice to Mayfair in this transaction.
Featured Product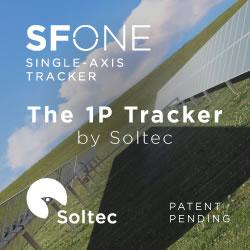 SFOne is the 1P single-axis tracker by Soltec. This tracker combines the mechanical simplicity with the extraordinary expertise of Soltec for more than 18 years. Specially designed for larger 72 an 78 cell modules, this tracker is self-powered thanks to its dedicated module, which results into a lower cost-operational power supply. The SFOne has a 5% less piles than standard competitor, what reduces a 75% the labor time.