Pepsi are joining the key annual meeting of industry experts at the forthcoming 5th Bio-based Chemicals Conference and Exhibition (www.worldbiofuelsmarkets.com/biochem)
By Melanie Botting

11th February 2013
Rotterdam, The Netherlands. Pepsi are joining the key annual meeting of industry experts at the forthcoming 5th Bio-based Chemicals Conference and Exhibition (www.worldbiofuelsmarkets.com/biochem) as the industry discusses how to successfully partner and scale up production to meet the rapidly growing market demand for sustainable products.
The conference organiser, Green Power Conferences, have carried out months of in-depth research and expert interviews and their findings indicate a dramatic increase in the rise of commercial scale production since last year's event.
The key hot topic for the industry is how to successfully create and develop partnerships to bring bio-chemicals in commercial volumes to market. The new bio-based chemicals production technologies require both investment and expertise to successfully bring new products to market.
Conference organiser, Hannah Yates, commented "we are very pleased to have Pepsi, Danone and Kimberly Clark address the industry this year with their product requirements. This will be a great year for the launch of bio-based products be it bioplastic bottles, yoghurt pots, bags or even cosmetics. It was good to see that Solazyme's microalgae-based prestige anti-aging skincare line, Algenist, has now expanded to over 1,100 retail locations worldwide".
Bio-based Chemicals (www.worldbiofuelsmarkets.com/biochem March 13-14, Rotterdam, The Netherlands) will once again be co-located with the 8th annual World Biofuels Markets Congress & Exhibition (www.worldbiofuelsmarkets.com) - which will bring together over 1500 decision-making delegates, thought-leading speakers and world-class sponsors from every part of the bio economy value chain, in one place at one time, to network and debate the most current topics.
Join the debate to hear more from these representatives (view their full interviews here), along with all 35 confirmed speakers, at the 5th international Bio-based Chemicals Conference, 13-14 March in Rotterdam, which will unite leaders to accelerate commercialisation, innovation and market uptake.
Contact
Melanie Botting
Tel: +44 (0)20 7099 0600
Email: melanie.botting@greenpowerconferences.com
Web: www.worldbiofuelsmarkets.com/biochem
Featured Product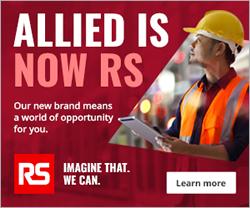 Based off the design pioneered by Anderson in 1953, the two pole SB® connectors set the standard for DC power distribution and battery connections. SB connectors feature a rugged one-piece plastic housing using stainless steel springs to retain the contacts and create the "contact force" that provides extremely low resistance enabling greater electrical efficiency. The SB connectors are also genderless (flip one 180 degrees and they will mate to each other) reducing the customer's bill of materials and providing greater economies of scale when purchasing. The SB series of connectors range in size from SB50 to the SB350. Each family size offers color-coded, mechanically keyed housings designed to prevent both visually and physically cross-mating devices with different voltages. All the connectors are UL rated to 600 volts, so the keys and colors are just identifiers to prevent accidents. Contacts are traditionally Silver plated to minimize electrical resistance while offering supreme durability and reliability.