Cambio Energy Chooses Enphase Microinverters for Tempe Plaza Shopping Center Project
PETALUMA, Calif. – Feb. 12, 2012, Enphase Energy, Inc. (NASDAQ: ENPH) Enphase Energy announced today that Cambio Energy of Tempe, Ariz. has completed a 302kW solar installation at Tempe Plaza, using the advanced Enphase Microinverter System. Four rows of carport parking with 1,211 microinverters now provide solar power to the retail and office strip mall tenants and shade for shoppers. Safety, ease of installation and maximum energy harvest capacity were key factors in choosing Enphase microinverters instead of a traditional central inverter.

"We chose Enphase microinverters in order to eliminate high-voltage DC and reduce component expenses, saving us time and money during the installation process," said Dillon Holmes of Cambio Energy. "And with real-time monitoring we can accurately forecast total energy output and troubleshoot the array for the lifetime of the system."
Arizona is second only to California in combined state-level residential and commercial solar installations, according to the 2012 Q3 SEIA/GTM Research U.S. Solar Market Insight report. As average installation costs decline, solar energy capacity is expected to trend upward in top-tier solar markets.
"We are delighted with the increasing adoption of Enphase in commercial solar projects in Arizona, and the opportunity to work with companies such as Cambio Energy," said Paul Nahi, CEO of Enphase Energy. "Solar integrators and project managers are recognizing the benefits of Enphase's microinverter technology and driving the adoption of solar as the leading renewable energy source."
The Enphase Microinverter System offers a new approach to the installation, operation and maintenance of solar energy systems. Enphase Microinverters, the Envoy Communications Gateway and Enlighten web-based monitoring and analysis software work together to deliver increased energy harvest and unparalleled solar system intelligence. To date, Enphase has shipped over 2.6 million microinverters and is selling into nine countries across Europe, North America and Asia Pacific.
To learn more about Enphase commercial projects, please join the online Enphase Commercial Solar Summit on Thursday, February 28, 2013 from 11:00 a.m. - 2:00 p.m. Pacific Time.
About Cambio Energy
With over 25 years of experience as a full service commercial and residential electrical contractor, Cambio Energy is one of Phoenix's premier certified solar installers. Cambio Energy provides turnkey solar electric systems including design, preparation, and installation. Our mission is to take full advantage of the abundant and valuable Arizona sun, cutting our dependence on fossil fuels and saving money on utility electricity bills. As certified solar installers, we have done the research and provide only the most reliable products and services available on the market with the industry's leading warranties. For more information or request a free site evaluation visit www.cambioenergy.com.
About Enphase Energy, Inc.
Enphase Energy delivers microinverter technology for the solar industry that increases energy production, simplifies design and installation, improves system uptime and reliability, reduces fire safety risk and provides a platform for intelligent energy management. Our semiconductor-based microinverter system converts energy at the individual solar module level and brings a systems-based, high technology approach to solar energy generation. Connect with Enphase on Facebook and follow us on Twitter. www.enphase.com
Featured Product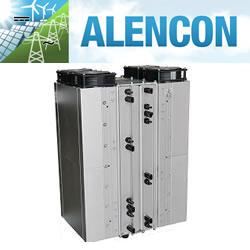 Alencon Systems is the premier manufacturer of high power, high voltage DC:DC optimizers for alternative energy applications including solar, battery energy storage, Microgrids, Fuel Cells and Electric Vehicle charging. Alencon's DC:DC converter offerings include the SPOT, BOSS and CUBE series DC:DC converters. The SPOT is a modular, uni-directional DC:DC solution ideal for solar applications. The BOSS is a modular, bi-directional unit for use with battery energy storage. The CUBE is a monolithic DC:DC converter which is available in both uni-directional and bi-directional modalities. Pictured above, is the Alencon SPOT.