• Over 350 Exhibitors to be exhibited over a space of 35000sqmts • Global participation from 20 countries • Over 20000 Trade visitors expected • Showcasing Glaring absence of HVAC equipment in over 12 Crore Indian homes
Mumbai: The 14th edition of ACREX India, to be held from 7th to 9th March 2013 at the Bombay Exhibition Centre, Mumbai is organized by ISHRAE (Indian Society of Heating, Refrigerating and Air Conditioning Engineers), Endorsed by ASHRAE (American Society of Heating, Refrigerating and Air Conditioning Engineers) and produced by UBM India. The Exhibition will showcase over 350 global exhibitors from 20 countries, spread over an exhibition space of 35,000 sqmts attracting over 20,000 trade visitors.
The only event in the Air-Conditioning and the Refrigeration space, ACREX INDIA 2013 will not only offer the perfect platform for HVAC & Refrigeration professionals and allied Building Services, such as Electrical, Lighting, Plumbing & Water Treatment, Fire-Safety and Automation & Fenestration, showcasing technological innovation, Environmental Friendly and Energy saving sustainable products and services but also will be a meeting point for the decision makers in this industry under the same roof.
Mr. Sushil K. Choudhury, National President- Indian Society of Heating, Refrigerating & Air-conditioning Engineers (ISHRAE) says that, "Acrex 2013 aims to surpass the expectations of the previous shows and set new precedents and standards for all such future Exhibitions. The event will showcase a wide range of HVAC & Refrigeneration equipments, technology and services."
The Global demand for HVAC (Heating, Ventilation & Air Conditioning) equipment is predicted to rise at a rate of 6.2 percent annually till 2014.
Companies like Carrier, Samsung, Blue Star, LG, Emerson Climate Technology, Diakin, ALP Emirates, Xylem Water Solutions, Mitsubishi Electric, and many more are participating in the event to showcase their latest innovative technologies in the area of Energy Efficiency and Green & Sustainable Innovation.
The event will offer an opportunity for the entire HVAC and Refrigeration industry to network and establish strategic business alliances with global real estate developers and builders, Architects, Interior Designers, MEP consultants, Engineering companies, Project Managers, After Sales & Maintenance Contractors, Facility Managers, End users from the private and public sector for Residential, Commercial and Industrial Buildings. The event is supported by the leading associations like IGBC (Indian Green Building Council), BEE (Bureau of Energy Efficiency), REHVA, AMCA (Air Movement and Control Association), etc.
Also, an important highlight at the event will be the prestigious ACREX 2013 Award of Excellence, which will acknowledge Industry stalwarts, for their excellent work in categories of Innovation, Green & Sustainable Energy Efficiency and Indoor Air Quality.
Prior to the exhibition, workshops and seminars will be held from 5th to 9th March, 2013, at the Hyatt Regency, Mumbai on Architecture, HVAC & Refrigeration, Healthcare and Hospitality, etc. Topics will include Best Practices for Design & Applications in Healthcare by Daniel Koenigshofer, PE, MS Public Health, ASHRAE / ASHE Certified Health Care Facility Design Professional; Solar Shading by Wouter Beck, M.Sc., Board of Directors of the Active House Alliance; Energy Efficiency and Data Centres by Don Beaty, PE and Roger R. Schmidt, IBM Fellow, IBM Academy of Technology Member and ASME Fellow and many more.
NOTE: For further information, please visit www.acrex.in
About ACREX 2013 & UBM
ACREX INDIA 2013 is organized by Indian Society of Heating, Refrigerating and Air conditioning Engineers (ISHRAE) with the professional expertise of UBM India. ACREX India 2013 will present over 350 global exhibitors spread over an exhibition space of 10,000 sq.mt and will see participation from 20 countries and attract 20,000 trade visitors from. The 14th edition of ACREX India will also offer the industry an opportunity to learn, interact and network at the three interactive panel discussions, six technical seminars and eight workshops. The panel discussions, seminars and workshops will be addressed by global experts in the field of HVAC&R equipments, their management, safety, sustainability and the allied building services.
UBM India is a part of United Business Media Limited which is a leading global business media company. We inform markets and bring the world's buyers and sellers together at events, online, and in print, providing them with the information they need to do business successfully. We focus on serving professional commercial communities, from doctors to game developers, from journalists to jewellery traders, from farmers to pharmacists, around the world. Our 6,500 staff in more than 30 countries are organised into specialist teams that serve these communities, helping them to do business and their markets to work effectively and efficiently. UBM worldwide organises 300 events, publishes 200 magazines and periodicals and host 200 websites. UBM India had started operations with the head office in Mumbai in 2006. The company has expanded its reach with branch offices in Delhi, Bangalore and Chennai. UBM India organizes 15+ exhibitions annually; some of the major sectors covered are pharmaceutical, jewellery, energy, securities, IT and others.
Media Contact details
Rupal Gupta - Mutual PR
9930375203
rupal@mutualpr.com
Featured Product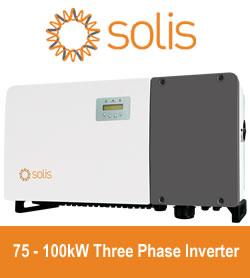 Solis75kW - 100kW series high-power string inverters are widely used in industrial and commercial rooftops. Solis's new three-phase string inverter is the first choice for industrial and commercial photovoltaics. 75-100kW three phase series string inverter have Maximum 28 strings input, support "Y" type connection in DC side. Maximum string input current 13A, support bifacial modules access.Supports anti-PID function to improve system efficiency.