Eleven sites built on the Islands of Maui and Lanai ----- Maui County, Hawaii to save $10 million over 20 years ----- Largest solar photovoltaic project in Maui County, Hawaii
MAUI County, Hawaii – Bosch Solar Energy, a division of the Bosch Group, has completed the largest solar photovoltaic project in Maui County, Hawaii.

The project will provide power for 11 sites with a combined system capacity of 1.9 megawatts (DC). The sites include four fire stations, two senior centers, the Lahaina police station, the Eddie Tam Community Center and the Kihei Aquatic Center. Two wastewater treatment facilities house the largest number of panels installed, with 3,696 panels at the Kihei Wastewater Treatment Facility.
"This investment alone will save the county in total more than $10 million over 20 years. The project provided more than 200 local jobs for four months and reflects the County's commitment to installing renewable energy systems," said Mayor Alan Arakawa.
Bosch Solar Energy and its partners jointly developed, constructed, and financed the multiple-site Power Purchase Agreement (PPA) project. This allowed the county to go solar with no upfront costs.
"The goal of the county to reduce their reliance on fossil fuels and switch to solar energy is commendable. We are pleased our breadth of capabilities can contribute to the solution," said Eric Daniels, regional president for Bosch Solar Energy, North America.
About Bosch Solar Energy
The Bosch Group's Solar Energy division is a leading supplier of photovoltaic products. From small-scale plants for family homes to finished large-scale photovoltaic projects, Solar Energy offers high-quality solar cells and modules for photovoltaic power generation. The division also develops top-quality turnkey solar power plants. In this area, Solar Energy handles the building of solar power plants, from initial planning to turnkey handover. Together with its subsidiaries, Solar Energy employs more than 3,300 associates worldwide.
Solar Energy is part of the Bosch Group. The Bosch Group is a leading global supplier of technology and services, active in the fields of automotive technology, energy and building technology, industrial technology, and consumer goods. According to preliminary figures, more than 306,000 associates generated sales of 52.3 billion euros ($67.2 billion) in 2012. Bosch enhances the quality of life by providing solutions which are both innovative and beneficial.
Additional information is available online at www.boschsolar.com www.bosch.com and www.bosch-press.com.
Featured Product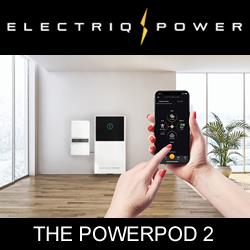 The Electriq PowerPod 2 is a fully-integrated home energy storage, management, and monitoring system powered by LFP batteries. The high-performance, cobalt-free product includes a hybrid solar/battery inverter controlled by intelligent software. The PowerPod 2 provides backup power and can self-consume or export excess power back to the grid.