May 1st, 2013 at the Jacob K. Javits Convention Center in New York City, NY
COLUMBIA, Md. & NEW YORK--New Energy Technologies, Inc. (OTCQB: NENE) has been selected to present at the Advanced Energy 2013 Conference on May 1st, 2013 at the Jacob K. Javits Convention Center in New York City, NY.

New Energy's Vice President of Business & Technology Development, Mr. J. Patrick Thompson, will present his and the Company perspectives on improving building efficiency and energy autonomy, and an overview of SolarWindow, a first-of-its-kind technology being developed to enable see-through windows to generate electricity, during the Advanced Photovoltaics-Technology session scheduled for 3:45 p.m. to 5 p.m. on Wednesday, May 1st. Mr. Thompson's presentation will also be made available online after the conference on May 2nd at www.newenergytechnologiesinc.com.
Hosted by the Advanced Energy Research & Technology Center, providing innovative energy research, education, and technology deployment, the two-day event will feature keynote addresses and informational sessions focusing on every sector of the energy industry, with special emphasis on several key areas: smart grid, solar, offshore and onshore wind, battery and energy storage and energy cyber-security. New York City Mayor Michael Bloomberg, a longtime proponent of energy efficiency and sustainability, and Richard Kaufman, the nationally-prominent energy policy expert recently appointed Energy Chairman for New York State, will keynote the conference.
New Energy Technologies has achieved multiple breakthroughs in developing organic photovoltaic technologies to create electricity-generating, semi-transparent SolarWindow coatings, which will generate electricity on see-through windows. The patent-pending SolarWindow technology utilizes an organic solar array composed of ultra-small solar cells. These cells are fabricated using mostly hydrogen-carbon based materials.
Currently under development for eventual commercial deployment in the estimated 85 million commercial buildings and homes in America, SolarWindow™ technology is the subject of fourteen (14) patent filings and is the world's first-of-its-kind technology capable of generating electricity on see-through glass windows. The importance of building integrated PV brings focus to the importance of deploying SolarWindow because "building-integrated and building-applied PV are set to achieve a compound annual growth rate of at least 41 per cent through 2016.
New Energy Technologies, Inc. is positioning itself and SolarWindow™ to becoming the standard for advanced window technology for high performance office buildings and skyscrapers. The replacement or retrofit of the current stock of windows with the advanced SolarWindow™ may result in an energy offset contribution to the overall energy equation.
The conference is organized by the Advanced Energy Research & Technology Center (www.AERTC.org), a partnership of academic institutions, energy providers and industrial corporations dedicated to innovative energy research, education and technology deployment. For more information on the Advanced Energy 2013 conference, please visit the conference website: http://www.aertc.org/conference2013.
About New Energy Technologies, Inc.
New Energy Technologies, Inc., together with its wholly owned subsidiaries, is a developer of next generation alternative and renewable energy technologies. Among the Company's technologies under development are:
*MotionPower™ roadway systems for generating electricity by capturing the kinetic energy produced by moving vehicles – a patent-pending technology, the subject of 45 US and International patent applications. An estimated 250 million registered vehicles drive more than six billion miles on America's roadways, every day; and
*SolarWindow™ technologies which enable see-through windows to generate electricity by 'spraying' their glass surfaces with New Energy's electricity-generating coatings – the subject of 14 patent applications. These solar coatings are less than 1/10th the thickness of 'thin' films and make use of the world's smallest functional solar cells, shown to successfully produce electricity in a published peer-reviewed study in the Journal of Renewable and Sustainable Energy of the American Institute of Physics.
Through established relationships with universities, research institutions, and commercial partners, we strive to identify technologies and business opportunities on the leading edge of renewable energy innovation. Unique to our business model is the use of established research infrastructure owned by the various institutions we deal with, saving us significant capital which would otherwise be required for such costs as land and building acquisition, equipment and capital equipment purchases, and other start-up expenses. As a result, we are able to benefit from leading edge research while employing significantly less capital than conventional organizations.
Featured Product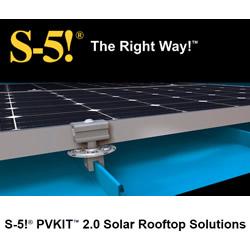 The concept of combining PV arrays with standing seam metal roofing is growing-for good reasons. Metal roofs have a life expectancy of more than 40 years. Shouldn't the mounting system last as long? With S-5! zero-penetration attachment technology and PVKIT 2.0, the solarized metal roof is the most sustainable system available -and without compromising roof warranties! PVKIT 2.0 is the also the best solution for attaching PV modules directly to any exposed fastener metal roof.