Anderson Power Products (APP) continues to search for ways to offer system designers increased power connections in compact formats!
Anderson Power Products® (APP®), a leader in high power interconnect solutions, announces a new addition to the SB® connector family with the release of their new 2 pole SB® 2/0 connector. APP® continues to search for ways to offer system designers increased power connections in compact formats. The SB® 2/0 offers larger wire capability and increased current carrying capability over the similar sized SB® 175 connector.

The proven SB® connector family is based on the original "Storage Battery" connector that pioneered flat wiping contact technology over a half century ago. Two to three positions in a genderless, color-coded, mechanically-keyed housing are suitable for a wide array of power connection applications up to 450 amps and 600V. Low resistance silver plated contacts for wire sizes from 300 mcm (152 mm≤) to 16 AWG (1.3 mm≤) are held inside rugged non-conductive plastic housings.
SB® 2/0 offers the same external dimensions as the popular SB® 175 connector, but is designed to fit contacts for 2/0 AWG or 70 mm≤ wires. These modifications allow the new SB® 2/0 to offer up to 340 amps of power in the same form factor of the SB® 175 connector that is limited to 280 amps. Larger wire sizes also help to minimize voltage drop over extended cable lengths.
About Anderson Power Products®
Anderson Power Products® is a leader in developing high quality, low cost, power interconnect solutions for industries including: Back Up Power Systems, Electrical Vehicles, UPS Systems, Telecommunications High-Technology Devices and Alternative Energy Solutions. Headquartered in Sterling, MA, Anderson Power Product's facility is ISO 9001:2008 certified and uses automated manufacturing to offer uncompromising quality. In addition, APP operates a distribution and assembly facility in Warrington, England to provide support for their European customers, as well as three Asia Pacific facilities: Shenzhen, China, Shatin Hong Kong and Taichung City 407, Taiwan (R.O.C.).
APP® connectors are available through their authorized distributor network or direct from the factory. For further information about the company and its products, call 978-422-3600 or visit www.andersonpower.com.
Contact:
Alicia Puputti
McNeil, Gray & Rice
617-367-0100 Ext. 155
alicia.puputti@mgr1.com
Featured Product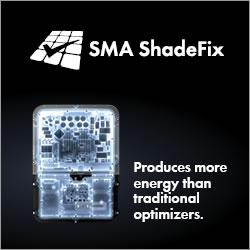 A recent university study showed SMA ShadeFix optimization produces more energy than traditional optimizers. It also utilizes far fewer components, reducing the need for costly service visits. Systems with ShadeFix optimization and SunSpec certified shutdown devices are the ideal solution for residential and commercial PV systems. Visit SMA's website to learn more and download the whitepaper.