Expanded research efforts are directed at a specific layer of the coatings, composed largely of polymers, which can be applied to flexible plastics and glass to create tinted, see-through windows able to generate electricity.
COLUMBIA, Md.--New Energy Technologies, Inc. (OTCQB: NENE), developer of the world's first-of-its-kind, see-through technology capable of generating electricity on glass and flexible plastics, announced today that researchers have achieved important device design, architecture, and transparency goals which now allow the Company to advance and expand development efforts of its electricity-generating coatings. These expanded research efforts are directed at a specific layer of the coatings, composed largely of polymers, which can be applied to flexible plastics and glass to create tinted, see-through windows able to generate electricity.

"We've worked hard to achieve a series of specific technical milestones focused on transparency, color, scale-up, and manufacturability of our SolarWindow™ technology," explained Mr. John A. Conklin, President and CEO of New Energy Technologies, Inc. "I'm proud to announce today that these achievements have allowed us to expand our development program to now include concurrent development of polymers for new coatings with improved properties."
Among important technical milestones recently achieved by researchers include:
1) A new patent-pending technique for spraying electricity-generating coatings on to glass while enabling improved properties
2) A 200% improvement in performance
3) Reduced fabrication from days to hours, down to one-sixth the original time
4) Increased transparency of SolarWindow™, referred to as 'visible light transmission'
5) Improved coating uniformity and aesthetic appeal
6) A significantly expanded patent portfolio
New Energy's development of proprietary polymers aims to expand the Company's range of potential applications and customized products, beyond electricity-generating windows. Additionally, researchers are keen to leverage new and improved polymers to further enhance product durability and performance – important considerations to the commercial launch of the Company's SolarWindow™ technology.
"In addition to bolstering our product performance, the development of the polymer layers could further strengthen our patent portfolio. A strong IP position will ensure that we minimize, if not entirely preclude, potential future competitors from encroaching on our proprietary technology," concluded Mr. Conklin.
Currently in development for eventual commercial deployment in the estimated 85 million commercial buildings and homes in America, SolarWindow™ technology is the subject of fourteen (14) patent filings and is the world's first-of-its-kind technology capable of generating electricity on see-through glass windows.
About New Energy Technologies, Inc.
New Energy Technologies, Inc., together with its wholly owned subsidiaries, is a developer of next generation alternative and renewable energy technologies. Among the Company's technologies under development are:
*MotionPower™ roadway systems for generating electricity by capturing the kinetic energy produced by moving vehicles – a patent-pending technology, the subject of 45 US and International patent applications. An estimated 250 million registered vehicles drive more than six billion miles on America's roadways, every day; and
*SolarWindow™ technologies, which enable see-through windows to generate electricity by 'spraying' their glass surfaces with New Energy's electricity-generating coatings – the subject of 14 patent applications. These solar coatings are less than 1/10th the thickness of 'thin' films and make use of the world's smallest functional solar cells, shown to successfully produce electricity in a published peer-reviewed study in the Journal of Renewable and Sustainable Energy of the American Institute of Physics.
Through established relationships with universities, research institutions, and commercial partners, we strive to identify technologies and business opportunities on the leading edge of renewable energy innovation. Unique to our business model is the use of established research infrastructure owned by the various institutions we deal with, saving us significant capital which would otherwise be required for such costs as land and building acquisition, equipment and capital equipment purchases, and other start-up expenses. As a result, we are able to benefit from leading edge research while employing significantly less capital than conventional organizations
Featured Product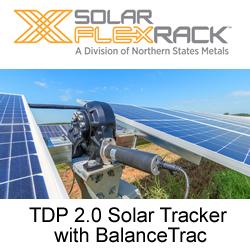 Solar FlexRack's latest solar tracker technology bundles an advanced tracker design with a full team of seasoned engineering and installation experts at your service. The next-generation solar tracker delivers a package of features that both enable increased energy yields for commercial and utility-scale solar installations, and significantly reduce project risks. That translates to smart installation cost-savings across your project budget.