The leading specialist wholesaler and system provider Krannich Solar
Munich, June 14, 2013 – The Scandinavian module manufacturer Innotech Solar has secured the leading specialist wholesaler and system provider Krannich Solar as a partner. The company added ITS solar modules to its portfolio in May 2013.

Krannich Solar believes that the particular advantages of ITS modules for PV installers and plant operators lie in the high quality of the modules and the low CO2 emissions of their production process. "We only add products to our portfolio once we are satisfied that all performance and safety criteria have been met. The quality of ITS modules has ticked all the boxes," explains Kurt Krannich, Managing Director of Krannich Solar. "Working with Krannich Solar is another seal of quality for our ITS solar modules," states Dr. Thomas Hillig, Vice President Module Sales & Marketing at Innotech Solar.
ITS modules are made using optimized, hot-spot free, high-performance cells with positive sorting. The environmentally friendly production process reduces their carbon footprint by 74 percent in comparison with modules using traditional cells.
Krannich Solar also highly values the stable prices of ITS modules. As the modules are manufactured in the EU, their prices are not affected by the EU's regulation on anti-dumping duties for photovoltaic components made in China, giving installers greater planning security.
The proximity of Krannich Solar to Innotech Solar offers additional logistical benefits thanks to shorter transport routes. This also results in quicker delivery times, more flexibility in terms of system planning, technical service and support and the faster availability of new products.
To find out more about Krannich Solar, please visit www.krannich-solar.com
About Innotech Solar
The Scandinavian-German company is an international supplier of PV modules. Innotech Solar specializes in the production of particularly environmentally friendly modules with optimized solar cells and uses innovative processes developed by in-house research teams to do so. The carbon footprint of ITS modules is up to 74 percent less than that of conventional PV modules.
The power for the cell optimization facility in Halle an der Saale is provided by a mix of renewable energy sources. The company manufactures its modules in a former REC solar factory in Glava, Sweden, which thanks to its fully automated production lines is one of Europe's most modern production plants. Its solar modules are sold in offices located in Munich, California and Shanghai.
www.innotechsolar.com/de
Featured Product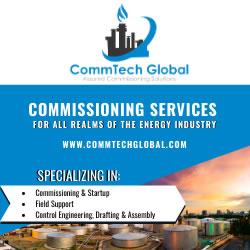 CommTech Global Solutions, LLC, provides professional and reliable commissioning services to customers in all realms of the energy industry. We blend our skills in engineering and technology with innovative business models, offering a complete range of services to assist you for a successful and in compliance operational startup. Consolidation of all our service domains gives our clients a comprehensive set of expertise and far-reaching experience on each project.