Non-subsidized solar power plant on organic restaurant wins in "Projects" category
Hamburg / Munich, 21 June 2013 – This afternoon, Conergy's innovative "Lasal del Varador" grid parity project on the rooftop of a Spanish organic restaurant on Barcelona's beach front carried the day in the "Projects" category at the Intersolar Award prize-giving ceremony. The Intersolar Award is presented every year on the occasion of the Intersolar trade fair held on the Munich exhibition site – in 2013 from 19 to 21 June. This year, the panel of experts awarded the prize for the first time in the "Projects" category for particularly innovative solar power solutions. Conergy emerged victorious from this premiere.

Given rising costs for conventionally-generated power from the grid and simultaneously falling system prices for photovoltaic solutions, in many regions of Europe solar power is already competitive for the end-user, and grid parity is thus achieved. With its innovative scheme in the now prize-winning "Lasal del Varador" pilot project, Conergy has developed a new business model that points to future-oriented solutions in this changing market: the Conergy solar power plant dispenses completely with feed-in tariffs. The restaurant owners consume all the electricity from the rooftop plant themselves, thus reducing their electricity bill by roughly one fifth. With this scheme, Conergy broke new ground in solar power terms in the autumn of 2012.
"In many cases, solar power is already more cost-effective for house-owners and businesses than power from the grid. This offers great potential when it comes to cutting electricity costs", said Conergy Board Member Alexander Gorski. "For the end-user, the power of the future simply comes from the socket without anyone having to worry about it. That makes new demands on us as market participants. We have responded to this with our new business models. On the one hand, it means that the solar plant has to be tailored to match the quantity of electricity used and the user's electricity consumption patterns. On the other hand, however, services and a carefree full-service package from a single source are gaining increasingly in importance. Our 'Lasal del Varador' project combines these requirements quite innovatively, and that is why we are very proud to have received this award as a major industry commendation."
In its worldwide "Start it!" campaign, Conergy is developing, business models for the grid parity market on a worldwide basis. These take into account local conditions of every market. Since the "Lasal del Varador" project, in Spain alone a total of 56 such Conergy plants with a total capacity of about 1 megawatt have come into existence in collaboration with partners. These plants produce about 1,450 megawatt hours per year and hence enough electricity to supply about 420 households with non-subsidized solar power. In Australia, the USA and South Africa, too, the PV solutions and service provider has already accomplished numerous projects involving no state feed-in tariffs whatsoever.
About Conergy
Conergy supplies complete solar energy solutions from a single source. As a leading PV Solution and Service Provider, Conergy offers its customers tailor made, worry-free, high-performance packages – be it for private or commercial roofs or for multi-megawatt installations. Along with supplying the "hardware" – all the necessary components for a solar plant – Conergy's complete solutions also include a full range of related solar services from architectural planning to yield insurance providing total piece of mind.
Conergy sells its system solutions around the world. Being active in over 40 countries across 5 continents, and with subsidiaries in 15 countries, Conergy ensures customers are never far from a Conergy expert. In the mature European solar markets, the PV solution and service provider calls upon an unrivalled network of premium quality installers, integrators, solar specialists and wholesalers to gain access to the rooftops and thus support homeowners, private investors and commercial businesses in their efforts to "go solar". In the emerging photovoltaic markets, the solar experts are focusing on large-scale solar plants, collaborating with international and local investors. As a result, around three-quarters of the group's sales came from international markets in 2012, a trend which looks set to continue as Conergy consolidates its leading position in the global market.
For its turnkey solar plants all around the world, Conergy's exacting standards apply. This is backed by a continuous quality assurance process which far exceeds the usual market standards and whose quality has been certified and confirmed by TÜV Rheinland. In the project's design and development phase, Conergy's experts manage the planning and financing; and after the plant has been constructed and commissioned they take care of monitoring, maintenance, operational management of the plant and offer comprehensive warranty services and insurance.
Featured Product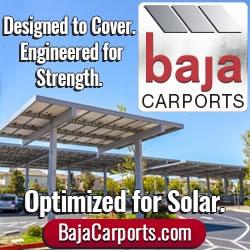 Baja Carports offers an extensive solar support system product line customized to customers' site specifications by in-house engineers, meeting their parking lot coverage, plus optimal PV production needs. Baja's Full Cantilever Tee is often paired with its Semi and Full Cantilever carports to meet live/loads up to 60psf and wind speeds to 160mph. All Baja products are pre-fabricated, bolted connections, pre-galvanized structural steel for fast on-site installation and project aesthetic requirements."