Network With All of the Players in the Solar Finance Community, From Deal Origination to Securities Distribution and Help Make Solar Securitization a Reality
Woodland Hills, CA July 17, 2013

Infocast, recognized leader in solar finance with its premier Solar Power Finance & Investment Summit, brings together key dealmakers from the solar finance community—renewable energy developers and capital providers—together with leading asset-backed securities (ABS) investors, rating agencies and other key participants at the first ever Solar Securitization: New Opportunities in Energy Backed Securities, September 23, 2013 in New York. Join them as the most up-to-date developments in solar securitization are discussed, including how to tap into lower cost of capital by this new asset class? How rating agencies assess solar asset performance and creditworthiness? And establish the necessary connections throughout the solar finance value chain to position for success.
Solar is the fastest growing sector within renewable energy, and renewable energy is the fastest growing sector of the global power market. The renewable energy industry is estimated to need over $70 billion of capital by 2020 and the ability to put capital to work at a large scale is a great opportunity for both the renewable energy and the ABS industries. The renewable energy industry's enormous need for capital offers an attractive investment opportunity and solar securitization is the answer.
However, for solar securitization to happen, the solar industry and the asset-backed securities sector must work together to resolve many questions. These include: How rating agencies view this new asset class? How much historical performance data is needed? What is the optimal size for a solar bond issuance that will attract investors? How will ABS investors assess the value of assets such as power purchase agreements or leases? Only those with the latest information on this new and evolving process, as well as the necessary contacts throughout the solar finance value chain, from deal origination to securities distribution, will be able to position themselves for success.
"This is the premier event for solar financing."
"Best forum to meet and network with market leaders in the solar finance community."
"Best focused conference on solar investment and finance."
Don't miss your opportunity to build relationships with players in the entire solar finance community.
For more information, to register for the seminar, or to join us as a Sponsor, visit the event website at infocastinc.com/solar-securitization13 or contact Infocast events at 818-888-4444.
About Infocast
Infocast is an event production company with over 25 years of solid industry experience, including a highly successful series of Finance and Investment Summits where industry players gather to share their perspectives on the finance and investment market, to establish relationships, network and conduct business.
Featured Product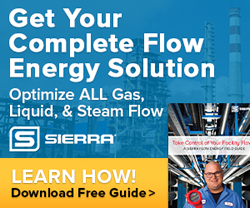 Download Flow Energy Guide - Written by Engineers For Engineers. Learn how to save on energy costs by optimizing your facility flows that impact costs like compressed air, natural gas, steam, and hot or chilled water.