Brower has been an ACORE member since 2002 and is a long time Leadership Council member.
Washington, DC, July 29, 2013 –The Board of Directors of the American Council On Renewable Energy (ACORE) is pleased to announce that Michael R. Brower, Mosaic Federal Affairs' Senior Federal Policy Director and Principal and ACORE Board of Directors member, will step in to lead the organization during the search for a new President and CEO. Michael will begin in his role in September and will immediately begin working in collaboration with ACORE's outgoing President and CEO, Vice Admiral Dennis McGinn. Admiral McGinn was recently nominated by President Obama to serve as the next Assistant Secretary of the Navy for Energy, Installations and Environment and testified last week at his Senate confirmation hearing.

"The organization was honored that our president, Dennis McGinn, has been nominated for a key leadership role with the Department of the Navy. As he awaits confirmation, we want to ensure that there is no absence of strong organizational leadership at ACORE," said Dan Reicher, ACORE Board Co-chair. "Michael Brower brings a deep understanding not just of the issues facing the industry, but a first-hand knowledge of ACORE itself. He will provide the clear-eyed assessments and leadership to keep ACORE moving ahead with our successful programs. He will have the opportunity to work side-by-side with Admiral McGinn throughout the summer, assuring continuity of direction."
"We've begun the search for our next CEO," said Dan Adler, ACORE Board Co-chair," and are doing so with a sense of purpose and security, knowing that Michael Brower will provide the continuity of leadership and organizational stability that our members and staff need while the search goes on. With Michael on board and our unanimously-adopted strategic plan, we are well-positioned to search for and engage the most qualified candidate."
Brower has been an ACORE member since 2002 and is a long time Leadership Council member. At Mosaic Federal Affairs, a wholly owned subsidiary of Hiscock and Barclay LLP, a New York law firm, Brower is responsible for the firm's operations, projects and legislative objectives and priorities. He is a retired career Naval Officer and Aviator who commanded Sea Strike Squadron Twenty-Two in the first Iraqi War and personally flew 43 aircraft carrier-based combat sorties. Brower also served in the Secretary of the Navy's personal office as Special Assistant for Air Warfare communicating United States Navy legislative policy to the Congress for Secretaries of the Navy Lehman, Webb and Ball.
Throughout his renewable energy legislative and project advocacy career, Brower has been directly engaged in a wide-variety of biomass, geothermal, solar, wind, hydropower, liquid transportation and hydraulic mix anaerobic biodigestion/biogas projects in the defense, power generation and transportation sectors, including work in development, funding and finance and operational deployments. He is directly involved in renewable energy tax matters, and helped draft the first ever Farm Bill energy title and many of the renewable energy components of the Energy Policy Act of 2005, and the Energy Infrastructure and Security Act of 2007.
"The trust and confidence that the ACORE Board of Directors has unanimously vested in me as Interim President and CEO of ACORE is a singular honor," said Brower. "To the Board, ACORE membership, ACORE staff and the national and global energy community, I assure you this transition will fully sustain the ACORE mission and goals so ably advanced during Admiral McGinn's most noteworthy and successful tenure. With our strategic organizational plan in place, the fully engaged participation of the ACORE Board, and the talented ACORE staff, my task is clear: to communicate the value proposition of renewable energy through ACORE's initiatives, programs, and tremendous member thought leadership. I am also engaged as Search Committee Co-Chair working with fellow Board directors, staff and, most importantly, ACORE members to find the right individual to lead ACORE and to continue the strong momentum created by Admiral McGinn."
"After more than two years at the helm of this wonderful organization, working with our members, staff and partner organizations to advance the business of renewable energy, I will depart ACORE later this summer fully confident that the mission will not only continue but will accelerate" said current President and CEO, Dennis McGinn. "With our active and engaged board, a new strategy in place, a search process well underway, and Michael Brower leading the staff forward, the best days for ACORE and our growing membership lie ahead."
ACORE will next convene the renewable energy industry at the Renewable Energy Finance Forum-West (REFF-West), in San Francisco on September 17 & 18.
About ACORE:
ACORE, a 501©(3) non-profit membership organization, is dedicated to building a secure and prosperous America with clean, renewable energy. ACORE seeks to advance renewable energy through finance, policy, technology, and market development and is concentrating its member focus in 2013 on National Defense & Security, Power Generation & Infrastructure, and Transportation. Additional information is available at www.acore.org.
Featured Product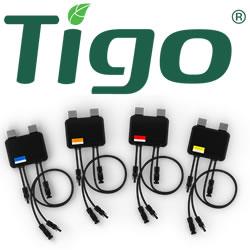 Tigo will announce the new product launch of the patented UHD-Core TS4-A (Advanced Retrofit/Add-on) Platform at SPI 2019. The new TS4-A-M (Monitoring) & TS4-A-S (Safety) units have improved lightweight hardware and lower labor costs to address a range of functions and budgets. The TS4-A-M allows module-level monitoring via Tigo's SMART Website & App. The TS4-A-S is UL-certified as a rapid shutdown solution for residential and C&I PV system. Both units join the Tigo's multivendor solution that works with almost any inverter and smart module in the global PV market. Contact sales@tigoenergy.com for pricing, shipping, and availability in Q4'19.