geoAMPS taps into the Esri Partner Network for technological and marketplace strategies to develop and market geoAMPS business offerings built on the Esri software platform.
geoAMPS, a technology company that offers software products customized for alternative energy and other industries, has joined the worldwide community of companies in the Esri Partner Network as a Silver Tier Partner.

"We're excited to become a member of the Esri Partner Network," Yogesh Khandelwal, geoAMPS President and Chief Executive Officer, said. "It further validates our commitment to quality."
By becoming a Silver Tier Partner, geoAMPS taps into the Esri Partner Network for technological and marketplace strategies to develop and market geoAMPS business offerings built on the Esri software platform.
"We like to take the educational approach, and develop best practices in a way to leverage mapping technology in day-to-day operations for the betterment of our product and the industry. In doing so, we arrive at creative solutions and better decision-making capability by our clients," Khandelwal said.
Even before becoming a Silver Tier Partner, geoAMPS utilized Esri's geographic information system (GIS) software and integrated it into each of the software products it offers, including alternative energy, land services, telecommunications, surveying, mapping, transportation and document management.
"We welcome geoAMPS as a Silver Tier Partner," Amy Garner, Esri Partner Coordinator, said. "The ability to leverage online, offline and mobile technologies within the land rights, infrastructure assets and data management markets makes geoAMPS a perfect fit for the Esri Partner Network."
altAMPS is geoAMPS' industry-leading, comprehensive solution for end-to-end management of alternative energy projects. altAMPS delivers a paperless system that can save time and money.
altAMPS is filled with Web-based tools, such as lease management, royalty payment calculator, payment tracker and scheduler and workflow management. It complies with processes unique to individual solar power companies. There is the added capability to access information through detached tools, GIS maps and smart devices. No longer do project managers have to wait to share information with employees in the field. Through mobile technology provided by altAMPS, that information is available at the push of a button. Project information, development and workflows are managed more efficiently.
"We promote Esri solutions to our clients," Khandelwal said. "We show them the benefits of utilizing that technology. They may not have been previously aware of those benefits."
Another geoAMPS product, gisAMPS, offers web-based, real-time mapping dashboards than can simplify routing, siting and project management through the use of color-coded maps and layers. gisAMPS provides mapping capability that can be coupled with any of the geoAMPS suite of products to provide an intuitive geospatial view. Processes which previously were time-consuming, such as project area selection, route planning and selection, reroutes, cost analyses, environmental assessments, 3-D visualization and project management, are conducted quicker and more efficiently with gisAMPS. By utilizing GIS mapping, gisAMPS is a comprehensive tool to end-to-end tracking of all land and infrastructure data.
About the Esri Partner Network
The Esri Partner Network is a worldwide community of companies that develop and deliver cutting-edge geographic spatial solutions and services based on Esri technology. Together, Esri and its partners collaborate to support end users through successful GIS implementation and repeatable solutions.
About geoAMPS
geoAMPS is the technology leader within the land rights and infrastructure management industry. Its off-the-shelf software products have been developed through collaboration with industry and technology experts. For more information, visit www.geoamps.com.
About Esri
Since 1969, Esri has been giving customers around the world the power to think and plan geographically. The market leader in GIS technology, Esri software is used in more than 300,000 organizations worldwide, including each of the 200 largest cities in the United States, most national governments, more than two-thirds of Fortune 500 companies, and more than 7,000 colleges and universities. Esri applications, running on more than 1 million desktops and thousands of Web and enterprise servers, provide the backbone for the world's mapping and spatial analysis. Esri is the only vendor that provides complete technical solutions for desktop, mobile, server and Internet platforms. Visit www.esri.com/news.
Dan Liggett is Communications and Public Relations Manager for geoAMPS. For more information visit www.geoamps.com or call 614-389-4871.
Featured Product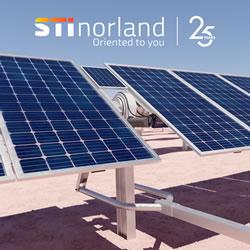 Developed in 2017, the STI-H250™ is consists of two linked torsion beams that rotate simultaneously following the sun's path. They are moved by just one motor, cutting supply and maintenance costs. STI-H250™ dual-row tracker includes backtracking mode to avoid shadowing between adjacent rows and stow function to protect the tracker in extreme wind conditions. For cleaning, vehicles can pass between trackers and each row can be placed in a different position.